Are you looking for information about Car wrap Phillippines? Want to give your car a brand-new appearance. Read this article to get the detail.
When you buy a new car, it always looks very nice and shiny. However, after a period of time for two years and above, the paint will start to fade, and of course, dents and scratches will also appear. 
So, how to make your car look like a new one? Yes! wrap Car in the Phillippines will be the fastest way to help bring your car a new appearance. Now, let come with Philcarnews.com and find out all the information about this method!
General Information About Car Wrap in the Philippines
Car wrapping is a process in which the mechanic will use vinyl or decal stickers to wrap over the original paint of the car. This method is suitable for those who don't want to spend more money on a new tint or just want to change the car's color for the short-term.
Depending on your demand; the car can be wrapped partially or fully. Before car wrapping became popular as an effective method to redesign the cars, it was primarily used to advertise the car's businesses. It is now very easy for you to find a car shop that offers car stickers, decals, or car wraps in the Philippines. 
Significantly, the wrapping process is also straightforward. First, your car will need washing and cleaning-up through, and then, the mechanic will place the chosen wrap over the vehicle. After that, they use heat to help the wrap stick's adhesive more tightly on the car surface. Typically, this process will take about 3 to 5 days
and depend on whether you want to cover your car fully or partially.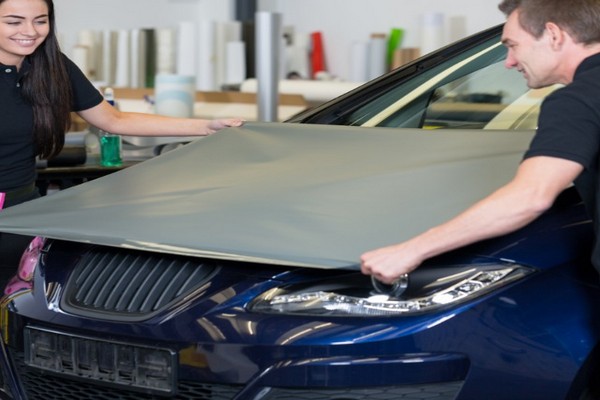 In general, car wrapping is considered as one of the most effective ways to bring the car a whole new look. So, what are the advantages and disadvantages of car wrap in the Philippines? Let's check it now!
Easy To Remove, Apply, And Customize
Because car wrapping is simply placing an adhesive decal of your favorite color on your car's original paint, then removing it later will not be difficult. And in fact, it only takes 3-5 days to make the process done.
More importantly, car wraps are very varied in design and colors. You can choose a metallic wrap, a trendy textured wrap, or a matte wrap for your car. And of course, the removing and changing process will not affect your car's original paint.
>>> Must read:
Higher resale value 
One day you might need to resell your car for some reason. And obviously, with an old and scratched car, you won't be able to get a high price. In this case, car wrapping will help your car look like a new one and get a much higher resale value. 
Cost Of Car Wrapping In The Philippines
Price is always the factor that car owners are most concerned about when choosing a wrapping service. Normally, a car wrap cost in the philippines will depend on the quality of materials that you use and the coverage painting area. Obviously, a quality wrapping material will cost much more than a low-end wrap.  
It is hard to mention a specific car wrap cost in the Philippines, but it will be somehow cheaper than painting service.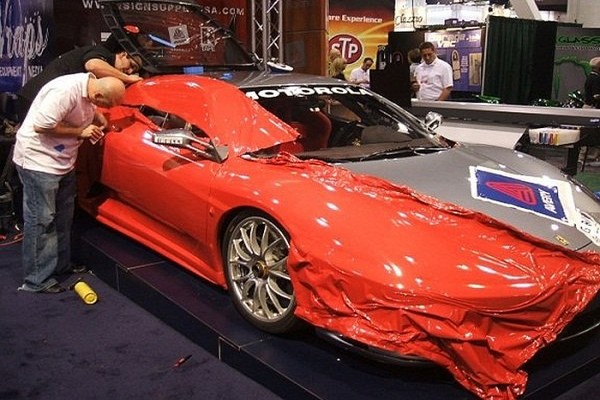 It is hard to mention a specific car wrap cost in the Philippines, but it will be somehow cheaper than painting service
Durable And Easy To Clean
Why are car wraps durable? It's because they can last up to 10 years. Surely, they can fade or scratch over time. However, generally, they will expire after ten years, depending on the materials used. In particular, they can last even more with proper care.
You can simply use a damp or wet cloth to clean the surface without washing the whole car in terms of maintaining it. Thanks to this, you can save a lot of time and money for a washing service.
>>> Suggested posted:
What Is The Difference Between Car Wraps And Car Paints?
Besides wrapping, repainting is also a popular method for changing your car's appearance. Unlike car wrapping, car repainting is the process in which the car's original paint is removed and then covered with a different color. This method is suitable for those who are looking for a permanent color change and a quality car
paint.
In case the car owner wants to resell the car, it might be sold at a lower price because repainting will reduce its value. In addition, car paints will require more consistent maintenance. It will need washing professionally with shampoos to maintain its gloss and a brand-new look.
Furthermore, being exposed to the UV rays for a long time can make the paint faded, and once it is dented or scratched, it will directly affect the car's surface and paint.
Car Wraps vs. Paint
Should You Use Car Wrapping?
With such significant advantages, car wrapping is highly recommended as an effective solution for changing the car's look. If you have a preferred color that isn't included in the factory's color collection, a car wrap will be a suitable choice. Also, if you are fed up with your car's current color, you can throw a wrap on it.
However, don't expect that the wrapping can work as a cover-up for a nasty and old paint job. If the car has a lot of scratches, the wrap will look like a mess.
Unfortunately, roughness under the car wrap will always show up on the surface. And when the old paint starts to flake, the decals will be hard to adhere to. Therefore, it is better to have any dents and scratches fixed before using car wrapping.
We hope that with our information on car wrap in the Philippines, you can now acknowledge the advantages as well as disadvantages of this method. It is your time to make a decision, and we hope you will be happy with your choice and your newly changed vehicle.
If you have any confusion, don't hesitate to share it with us by dropping a comment below, and we will come back to you as soon as possible.
>>> Click here to get more helpful tips and advice for all car owners