Follow the following article to know more about the early warning device price and which products to choose from the local market.
Early Warning Device For Car: Introduction
No matter how reliable your car is, sometimes you may have to stop in the middle of the road and deal with unexpected problems, like running out of gas or exploding tires. In these cases, one of your most needed car pieces of equipment for such urgent stops is the early warning device.
Let's get into the early warning device price details and their related rules and standards with Philcarnews.com right now!
Early Warning Device Definition
The Philippines Road Traffic Office's guidelines define an early warning device as a tool, included in a vehicle's safety system. This device ensures your car and other vehicles' safety by adding visibility lighted identifications, especially if you have an emergency stop on the road or highway.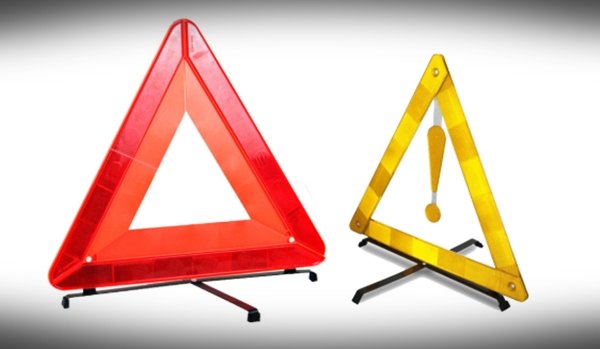 Being shaped in a triangle and made from a highly reflective plastic material, the early warning devices (EWD) include a pair of yellow and red devices.
Car Early Warning Device: Distance
According to the Land Transportation Office (LTO) guidelines, the optimal distances between the red device and the car are approximately six meters and about another six meters between the yellow one and the red.
With the right distances of EWD, other drivers on the road where you incidentally stop will have optimal visibility. When they see a yellow sign, they will understand that there is danger ahead. Then when they see the red signal, they will know they are getting closer to the dangerous scene.
The LTO also recommends increasing the distance for signs on the highway. Besides, you need to follow the recommended angle for each device, which is 5 to 10 degrees perpendicular to the pavement. The distance and angle of the EWD need to ensure that other vehicles can reflect their light.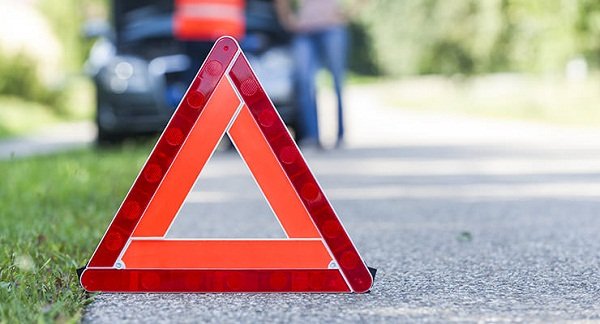 You should also avoid placing two EWDs too close to prevent damage from color confusion.
Not only to ensure vehicle safety, but you can also use EWD to warn off other hazards you see on the road. For example, if you see a dead animal on the road, a collision, or a broken road, you can set EWD to warn other vehicles. 
>>> Read more: 8 Must-have Items For Your Car Emergency Kit
Early Warning Device: Prices & Recommended Products 
Drivers can always choose and purchase EWDs at any car accessories store. Depending on the needs of the user and the material, the prices of EWD will be varied. The list below will provide you information on five early warning devices with prices ranging from low to high.
Early Warning Device Reflective Triangle Signage High Degree in Visibility
Price: PHP 125
The early warning device from Bose Car Accessories has the lowest price on the list. The size of this EWD is quite large, with a width of 5 cm, a length of 43 cm, and a height of 45.5 cm.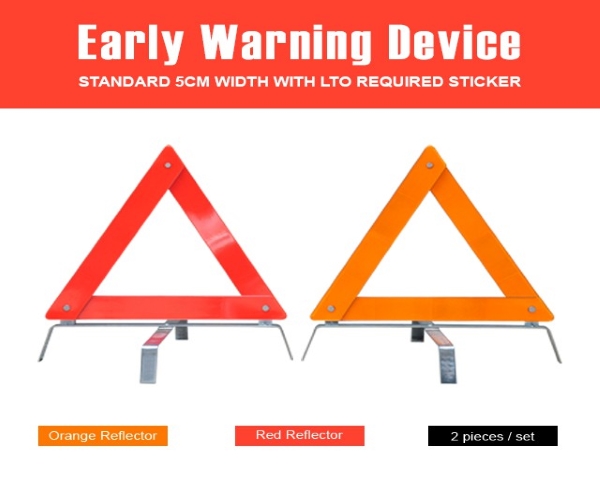 DEFLECTOR Early Warning Device
Price: PHP 199
Just so you know, the DEFLECTOR brand owns the title "Best Rated Early Warning Device" on Lazada. With affordable and highly visible in day or night conditions, the DEFLECTOR Early Warning Device will guarantee to perform its best under any conditions.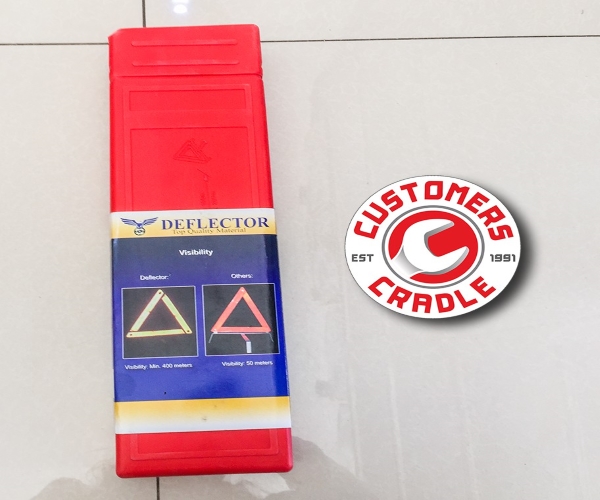 DEFLECTOR Early Warning Device
Early Warning Device (heavy duty) with sticker
Price: PHP 450
If you want to ensure compliance with LTO regulations, you can choose this Early Warning Device with the mandatory sticker from LTO. The device's size meets the specified standards with 5 cm width, 43 cm length, and 45.5 cm height, including the base.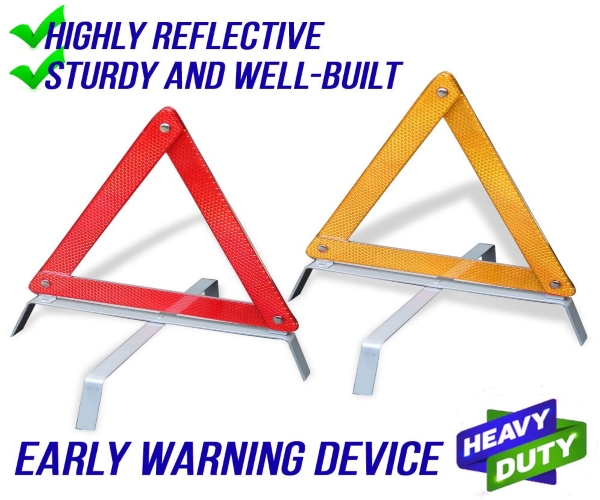 EWD possesses the advantages of heavyweight, easy folding ability, high visibility level, and recommendation by LTO. However, this mid-range early warning device price in the Philippines can be a little too high for users to buy.
Multi-Function Work Light Car Early Warning Device Triangle Sign
Price: PHP 539
The look of this EWD is the most impressive on our list. The device's super bright LED has a brightness of up to 500 lumens, using charging instead of batteries. Besides warning of danger, LED lights can be used as regular lights when going fishing, camping, etc ...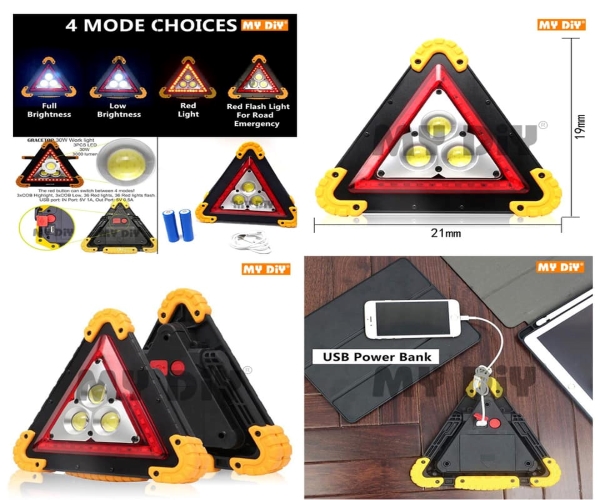 The device's significant advantage is its waterproof, flexible use, and heavyweight to help it stand on the road. The biggest downside is that the device's price is relatively expensive when some features are unnecessary redundancy.
Early Warning Device Reflectorized Triangles with Exclamation Point
Price: PHP 770
The design and the quality of early warning device reflectorized triangles are at the top of the list.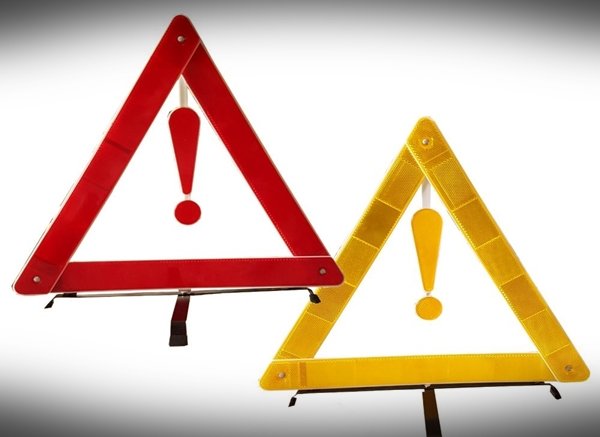 The unique exclamation mark is a big highlight in this EWD's design.
>>> Check out now:
Early Warning Device: LTO Rules and Penalties
Penalty For No Early Warning Device
LTO imposes penalties to ensure that every vehicle (except motorbikes) comply with carrying EWD pairs as instructed in The Memorandum Circular No. VFT-2012-1609. Two penalties will be applied: a fine of PHP 500 and a confiscation of car license until you equip EWD in your vehicle.
If your vehicle is detained and there is no EWD, the competent authority will keep the car until you get the device and present it to the officer in charge.
Early Warning Equipment: Rules and Instructions
Damaged early warning devices, equipped against the LTO regulations, simple temporary shielding materials ... are not acceptable. According to LTO regulations, a pair of EWDs needs to meet the following specifications:
Size: The sides' length should be at least 40 cm, and the width should be 5 cm.
Materials: Each EWD consists of a pair of triangles: one yellow and one red. The devices should be made of reflective plastic and are collapsible.
Visibility quality: The EWD needs to be seen by high beams up to 400 meters in adverse weather conditions.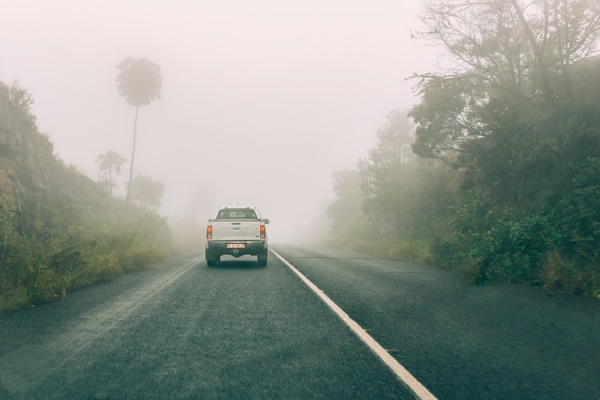 Efficiency: During vehicle registration with LTO, vehicle owners are not required to present an EWD. However, if the LTO requires inspection, the driver must hand in the EWD.
Situation and Place to use: It is necessary to put EWD around your vehicle when you need to stop in the middle of the road or when you park in a no-parking zone due to unexpected accidents.
>>> Further references:
Early Warning Device: Conclusion
According to LTO regulations, the early warning device is required for all types of vehicles, except motorcycles and tricycles. 
With the above article, we hope that you have already got all the needed information about the EWD's standards as well as some updated early warning device price that is suitable to buy 
Be safe and see you next time with more helpful tips and advice for car owners in the Philippines!