How to get an International Driver's License in the Philippines? If you're asking the same question, this article is for you.
A driver's license may come in handy especially when you're a busy person who constantly travels from place to place. When traveling abroad, you wouldn't want to be pulled over by the police without a driving permit. It's going to cause you trouble.
In this article, you will find out how to get an International Driver's License in the Philippines.
How to get an International Driver's License in the Philippines?
There's one thing you need to know about the International Driver's License: this kind of permit allows you to run freely on the roads of more than 150 countries in the world. 
Sure package traveling is great and cheaper, but have you ever got to travel on your own? With an international driver's license in hand, you can explore the county you love without any ties that hold you back.
For travelers who love taking drives, the international driving permit (IDP) can help transform their local driving permits into international driving licenses. This is a big first step in your journey to explore foreign countries in the best way possible.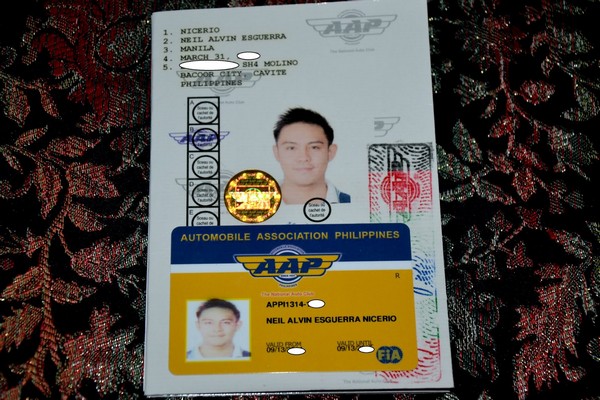 The Philippine international driving permit countries include Japan, a strict country with driver's licenses. Regulated by the United Nations (UN), an International Driving Permit in the Philippines will likely get you anywhere you want to go. Sounds intriguing? Look no further, this is the complete guide on getting an IDP in the Philippines.
Where can you get it?
AAP (abbreviation for Automobile Association Philippines) is the only organization that you can get an International Driving Permit from. There are several branches of offices in these locations: Davao, Quezon City, Pampanga, Alabang, Cebu, Makati, and Lipa. 
The requirements for an IDP
To get an IDP, you'll need:
The original Philippine Driver's License and a copy
Two 2x2 colored ID pictures
Foreigners must show their passport and a copy of the approval letter they got from the Embassy (the approval letter presents the date of their last arrival).
If you have an authorization letter and a valid ID, your International Driving Permit in the Philippines will be applied by a representative.
>>> Suggested posts:
The process
The process of getting an IDP is very simple. You'll need to contact one of AAP offices (mentioned above) then fill out the INTERNATIONAL DRIVING PERMIT APPLICATION FORM (you can click here to see it).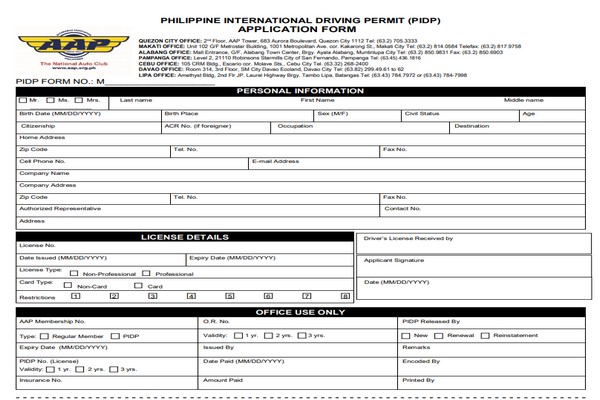 The duration of the process depends on which office you choose to contact. The AAP claims that the office in Quezon City has the fastest processing time (approximately 1 hour). Other branches will take up to five days (Alabang, Makati, Lipa, and Pampanga: 2 to 3 days; Cebu and Davao: 4 to 5 days).
If you're not in a rush, just go with the nearest branch to where you reside. If you must have the IDP immediately, then the QC branch is recommended.
How much will it cost?
The price of an IDP is not cheap. We have the full price below:
|  Factors | Price |
| --- | --- |
| Standing processing fee  | P3,500  |
| VAT (12%)  | P420  |
| Total  | P3,920  |
Where can you use it?
The United Nations Conventions on Road Traffic in 1949 and 1968 stated that all the contracting countries could issue the PIDP. When receiving the PIDP, you will find the list of the countries where your driver's license is valid in over 150 countries.
How long is its validation?
The Philippine International Permit lasts 1 year. But if your local license exceeds the expiration date less than 1 year after you got the Philippine International Driving Permit, the PIDP will expire the same day as your license.
>>> Read more: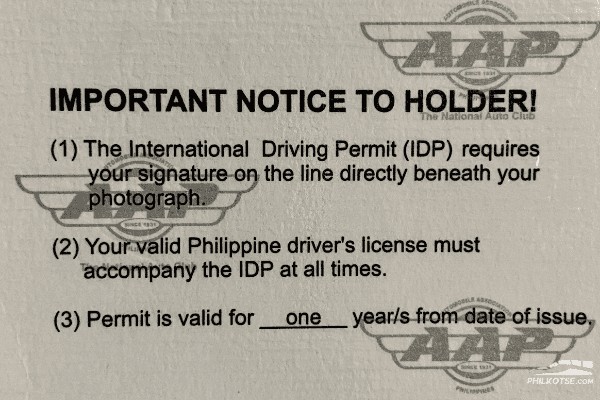 How can you renew an International Driving Permit?
The AAP allows you to get your IDP renewed up to 1 month before it expires. Just bring your AAP annual membership and about P4,000 in case there is rising paperwork (but the fee of the PIDP is only P3,920 like the application).
If you are traveling abroad and your driver's license needs to be renewed in the Philippines, you can hire a representative to do it for you. What you will need to bring is:
A letter of authorization
A valid ID
AAP annual membership
PIDP fee
Suppose you have an expired driver's license and your International Driving Permit in the Philippines needs renewing. In that case, you need to reserve a temporary driving permit in LTO and bring it to AAP, with the payment receipt. On the other hand, you can set up an Online Appointment in LTO offices for faster service.
How do you use it?
For the Philippine International Driving Permit to work, your local driver's license still needs to be valid to complete the procedure.
Is it worth the price?
The price of getting an IDP is not cheap. Whether it is worth your money or not depends on your budget and your financial conditions. If you have the aim of traveling freely, dependently, then it is definitely worth it. Moreover, if you love driving in foreign countries, then spending on the PIDP won't waste your money.
On the other hand, if your plan is to reside in foreign countries, we suggest getting a driver's license in the country in which you're moving to rather than the IDP. Because the International Driving Permit expires every year, you will have to spend a large amount of money on a driver's license.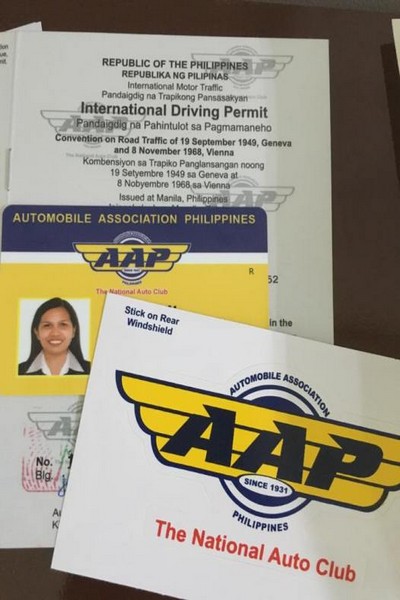 Conclusion
There! That's everything you need to know about how to get an International Driver's License in the Philippines. Always make sure that you're driving with a valid license. It is even more important to carry an international driving permit when driving in foreign countries. It's going to help you stay out of trouble while traveling abroad! Philcarnews.com hopes this article has helped you answer your questions and doubts about the PIDP. Stay tuned for our next posts.
You could also to get more tips and advice in our safe driving category.