Your vehicle is due for a car tire change but you have no idea what is the best tire brand in the Philippines? Philcarnews.com has some suggestions for you.
Within this article, Philcarnews will help you learn more about car tires, pros & cons of every tire. We will also show you the 7 best car tires brands in the Philippines in 2023.
1. Aeolus Tires Review
Aeolus Tires are made by a Chinese company, Aeolus. Aeolus focuses on tires for regular cars and trucks.
Aeolus Tires are highly recommended for those who are looking for decent quality tire products at reasonable prices. Aeolus tires meet Europe's quality requirements, making it be one of the best tire brands in the Philippines.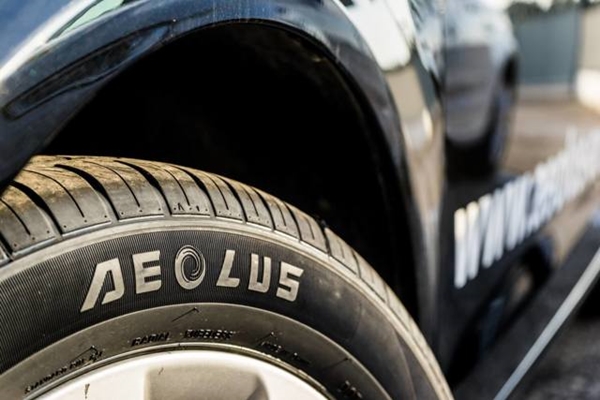 Aeolus is a Chinese company
Recommended Aeolus tires 

Truck: Neo All Roads S, Neo Fuel S+, Neo All Roads D, Neo Urban G.
Agriculture: AE74, AE77, AE21 and AE23
Earthmoving: AE37, AE39 and AE45. 

Aeolus Tires Pros
 Aeolus Tires is a high-quality tire with a suitable price.
Aeolus Tires Cons
Some products are claimed to be heavier than tires from other brands
2. Yokohama Tires Review
Japanese-made products are usually known for their durability and high quality, and Yokohama tires are no exception. With standardized features and reasonable price ranges, Yokohama is always one of the best car tire brands in the Philippines. This tire is often used for the Toyota Vios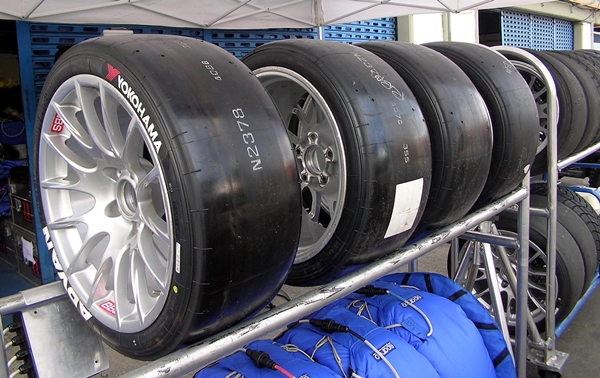 Recommended Yokohama tires 

ADVAN includes ADVAN A050, ADVAN A052, ADVAN Fleva and ADVAN Neova.
Geolandar includes Geolandar SUV, Geolandar M/T, Geolandar A/T and Geolandar H/T.
BluEarth contains BluEarth Ace, BluEarth AE01 and BluEarth ES32.

The Yokohama Tires price
From P2,500 to P35,000
Yokohama Tires Pros
Yokohama Tires hardly make noise and when driving. It's largely appreciated for its smooth movement.
Yokohama Tires Cons
The heat indulgence is a disadvantage of this Yokohama Tires
3. Bridgestone Tires Review
Here comes another Japanese car tire brand in this list. Bridgestone is also known as one of the biggest names when it comes to the best tire brands for cars worldwide.
Worth to note, Bridgestone Tires has recently applied renewable resources to its manufacturing process. Bridgestone Tires is also appreciated by a large number of customers for offering one of the best tires for SUV.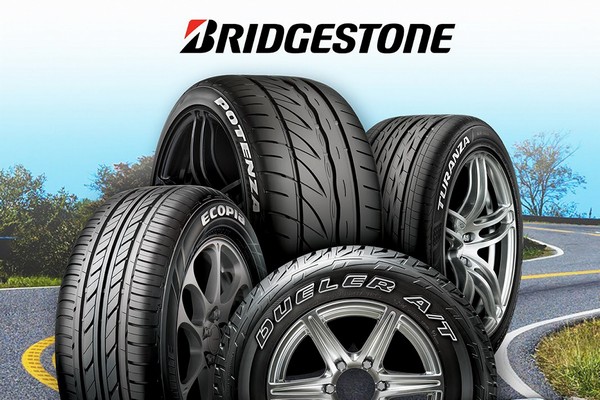 Recommended Bridgestone tires 

Dueler: Dueler A/T 697, Dueler M/T 674, Dueler H/p Sport
Ecopia: Ecopia EP150, Ecopia EP300, Ecopia EP850
Potenza: Potenza S001, Potenza Adrenalin RE002 and Potenza RE003
Turanza: Turanza ER33, Turanza ER300 and Turanza GR1000

The Bridgestone Tires price
From P3,000 to P60,000
Bridgestone Tires Pros
Bridgestone Tires offers long-term warranty
Bridgestone Tires Cons
Bridgestone Tires price range is higher than those of other brands.
4. Kumho Tires Review
Kumho Tires is so famous for its durable products and reasonable prices, while their tire quality is not any less good than tires from other brands. Kumho provides a line of passenger, SUV, pickup, crossovers tires for all car models. This is one of the most affordable car tire brands in the Philippines that offer performance at a good price.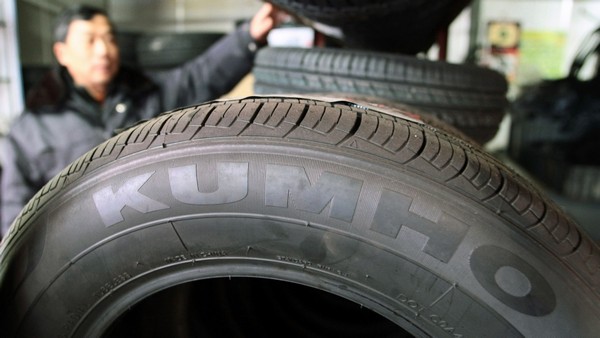 Recommended Kumho tires 

Solus: KH16, KH25, TA11 and TA71
Ecsta: V720, 4XII, LX Platinum

The Kumho Tires price
From P7,500 to P22,000
Kumho Tires Pros
Treadwear is good and we can't complain about its durability.
Kumho Tires Cons
Noise is the only issue that Kumho Tires should improve.
5. Michelin Tires Review
Michelin Tires is manufactured by Michelin - a French company. Michelin Tires is a well-known car tire brand in the world. Michelin manufactures tires for not only cars but also bikes and motorbikes.
When it comes to the best tire brands for cars in the Philippines, Michelin is rated as one of the top options, particularly for passenger cars. Even though it comes with a bit high tag price, yet it compensates well thanks to top-notch performance products across all specs.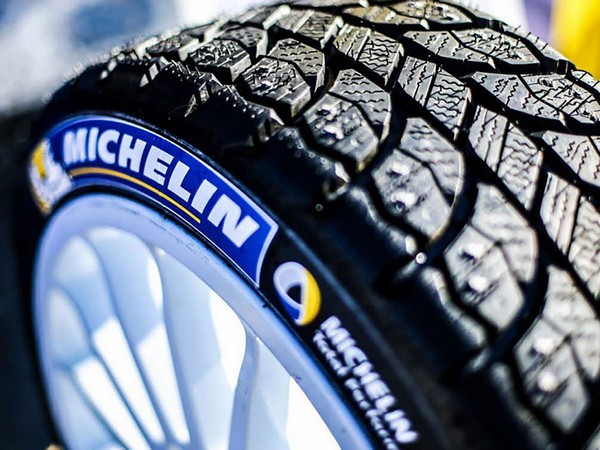 | | |
| --- | --- |
| Recommended Michelin tires  | Michelin Defender, Michelin Premier LTX, Michelin Primacy MXM4, etc. |
| The Michelin Tires price | From P5,000 to P61,000 |
| Michelin Tires Pros | Good quality and awesome performance |
| Michelin Tires Cons | Michelin Tires are more expensive than other brands. |
6. Nexen Tires Review
Nexen Tires is manufactured by Nexen Distribution Philippines Inc. Nexen Tires is a good option to take into account if you are looking for affordable tire brands for all seasons.
Nexen offers tires for SUVs, pickups, and passenger cars. Nexen tires perform well in dry and wet weather, with good handling as well. Get yourself Nexen tires if you are tight on your budget.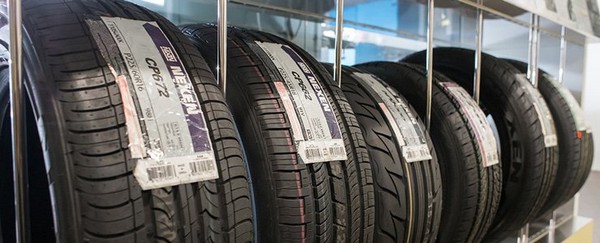 Recommended Nexen tires 

Roadian: Roadian HP, Roadian CT8, Roadian HTX RH5
CP: CP321, CP521.

The Nexen Tires price
From P2,700 to P22,000
Nexen Tires Pros
The all season tire of Nexen Tires is really good. It has a good performance under any conditions, especially in the winter condition. Most importantly, Nexen Tires come with affordable price tags.
Nexen Tires Cons
The poor tread wear may be a proble
7. Sunfull Tires Review
Sunfull Tire is a tire brand of Unicorn Tire Corporation which was established in 2007. This company manufactured the product for light truck, quality passenger and so on.
Sunfull Tires has a good price that it can compete with other brands and also has a high-standard car tire.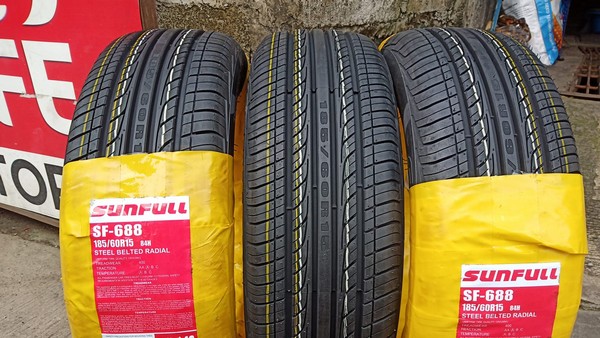 | | |
| --- | --- |
| Recommended Sunfull tires  | SF-688, SF-982, SF-05, SF-983 AS, etc. |
| Sunfull Tires Pros | Sunfull Tire has a suitable price and nice design. |
| Sunfull Tires Cons | it has a quite bad performance in the snowy condition (which is, however, not a problem to Filipino drivers). |
Hopefully after reading this Review of the best tire brands in the Philippines on Philcarnews, you can have a general idea of which products or brands to go for. In the next part, we will give you some important notes to keep in mind before deciding on any particular products.
Questions to ask yourself when choosing the best car tire brands in the Philippines
1. Which kinds of tires are best for any specific vehicle?
All-Season tires –  All Season Tires are versatile tires that have a good performance in any conditions. It is also made of a hard rubber compound that prolongs the tread life for tires .
All-terrain tires – All-terrain tires provide an acceptable grip when driving on uneven surfaces like rocks or mud. Besides, the reinforced sidewalls and all-year operability are two advantages of this kind of tire.
Low-profile tires – The sidewall of low profile tyres is shorter than other tires. It also has large tread blocks and a wide apex.  Moreover, the poorer the road condition is, the more damage your tire might get.
Mud-tires – This type of tire is used to perform off-road, mud or sand. The large tread blocks and deeper voids will help your vehicle perform well.
Performance tires – this set of tires has a stiff and a wider apex to boost cornering power. Performance tires will enhance your driving experience with some outstanding features such as larger tread blocks, shorter sidewall, ... 
Truck tires – Truck tires are designed to the vehicles that usually carry heavy loads. As its name, this type of tire is used for trucks only.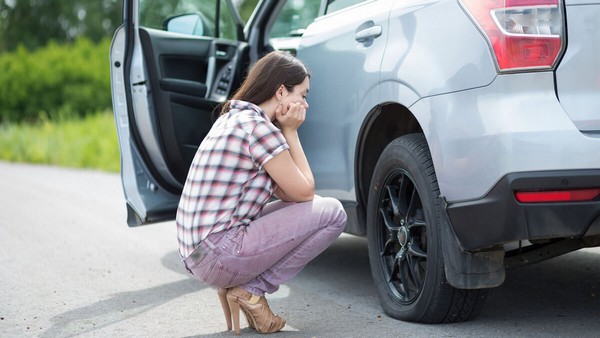 2. Are your car tires really due for a change?
Find your answer to this question in this article 12 Things about Tire Maintenance That Every Car Owner Should Know.
3. Can you really afford brand new car tires?
If you can't afford brand new products, it's not a bad idea to go for used car tyres.
4. Do you know the exact size of your car tire?
Vehicles come in different shapes and sizes, and so are their tires. Choosing the right tire is vital to improve both performance and safety of your car. 
Fortunately, this task is not that difficult. The tire size information of your car can be found in the car's manual. Besides, you can also make sure of available online tools to calculate the most suitable size for your vehicle.
Choosing the best tire brands for your car is no easy task but we hope our post can be of some help. Make sure to visit us at Car maintenance categories to get more helpful car tips and advice.