Mitsubishi Mirage G4 GLX vs GLS is a popular concern among Pinoy car buyers. Read our variant comparo to get all the similarities and differences of these two.
When a series of new cars is released one after another, customers (especially those who are new to cars) might find it challenging to recognize the diversified designs of these models.
In this article's framework, Philcarnews.com would like to introduce how to differentiate Mitsubishi Mirage G4 variants so that you can decide whether it's a good fit or not.
Mitsubishi Mirage G4 GLX vs GLS - let's find out how similar or different they are.
Overview of Mitsubishi Mirage G4 GLX vs GLS
The G4 is the sibling of the Mitsubishi Mirage hatchback, but in form of a sedan. To classify, the Sedan car model is simply a convertible car with the body divided into three separate compartments: the front engine compartment, the passenger compartment, and the rear luggage compartment.
Different from its hatchback brother, in this Mitsubishi Mirage G4, the engine and luggage compartment is lower; the passenger compartment is taller with two seats. The car has a 4-door structure divided equally with 4-5 seats, and the ground clearance is low, not higher than 200 mm.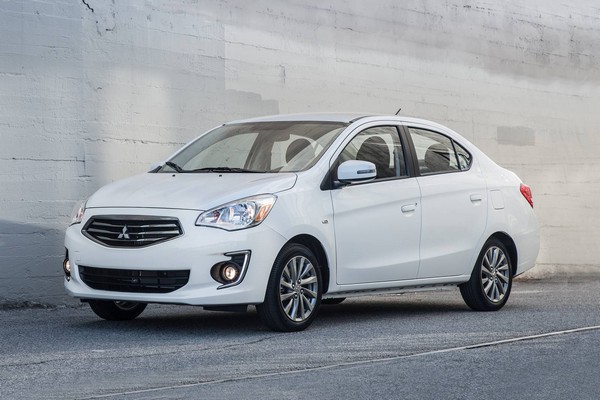 The G4 was born as a sedan sibling of the Mirage hatchback
In the Philippines, there are two variants that the Mitsubishi Mirage G4 offers, which are Mirage G4 GLS and Mirage G4 GLX. Many might wonder what GLX vs GLS meaning is, then here you go, the phrase basically means to differentiate two variants of the Mitsubishi Mirage G4 sedan.
The GLX is the choicest, but it's not over as the GLS is upgraded with more advanced features. Can't set down to experience the top variant of the lineup or saving money? This Mitsubishi Mirage GLX vs GLS comparison will lend you a hand.
Mitsubishi Mirage G4 GLX vs GLS: Exterior vs Interior
Exterior
At a glance, we can immediately recognize the Mirage G4 GLS with an elegant, luxurious design as this car category is oriented towards mature and discreet customers.
Not only the outlook, but the Mirage G4 GLS also has better stability and better sound insulation than the Mirage G4 GLX when traveling on the highway.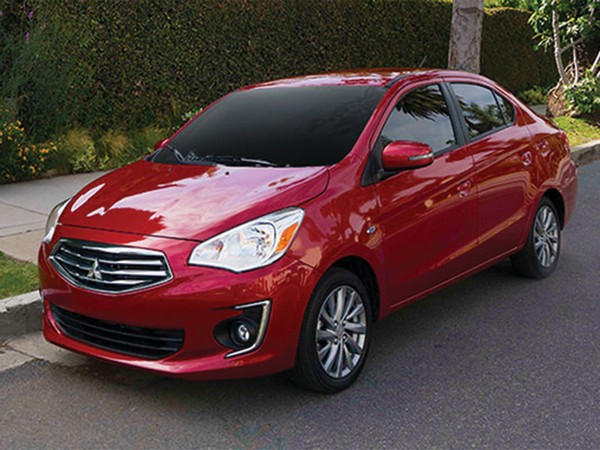 The LED turn signal lamps are placed on the GLS's power side mirrors while they are located on the fender on the GLX
Another excellent point of GLS is the addition of LED fog lights. The limited visibility is extremely dangerous, easily leading to unnecessary traffic accidents. Therefore, the addition of led fog lights for pickup trucks is essential for most people to ensure their safety. In the case of the G4, the fog lamps made of chrome are only set in the upper-spec.
Interior
The Mirage G4 GLS has a much larger interior space than GLX. The car also has an independent 2-zone air conditioning system that allows rear passengers to self-adjust the temperature.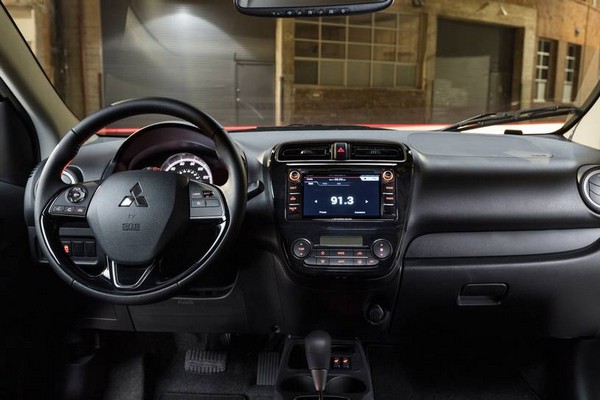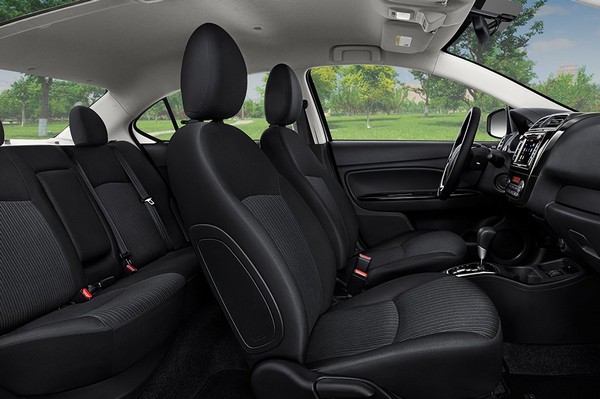 The straightforward interior design on the Mitsubishi Mirage G4
Besides, the car also uses button start technology, smart key, electronic handbrake, auto hold, hill start assist, electric mirror, heated steering wheel. Hence, GLS maximizes the process of automation, so you don't need to remember which button for cooling or anything else.
>>> Suggested for you:
Mitsubishi Mirage G4 GLX vs GLS: Engine & Performance
The Mirage G4 GLS is best-known for its outstanding performance when equipped with the 1.2L 3-cylinder engine with 76 hp capacity. Along with engine configuration is the 6-speed automatic transmission, lightweight, fast, smooth shift time, and reduced fuel consumption.
However, the maximum capacity of the GLX is up to 78 hp. So, if you want to purchase a superior engine product, the GLX is a better choice.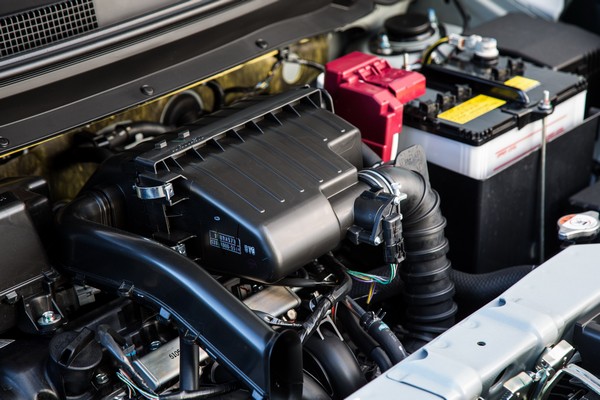 The Mirage G4 comes offered with solely one engine option which is a 1.2L 3-cylinder engine
Regarding performance, with low chassis as well as excellent aerodynamics, the Mirage G4 GLS provides smooth steering when the driver is moving at high speed.
In addition, it's rated by many drivers that this vehicle is capable of stable, compact operation with the least noise and vibration.
Mitsubishi Mirage G4 GLX vs GLS: Safety & Security
Safety is always one of the top criteria when choosing any car. Therefore, the manufacturers are still trying to provide the Mirage G4 with extensive use while increasing competitiveness and providing a genuinely trustworthy buddy.
To minimize injuries to passengers when an accident occurs, car manufacturers continuously test and optimize the chassis system to absorb impulses in a collision. This system exists both in GLS and GLX.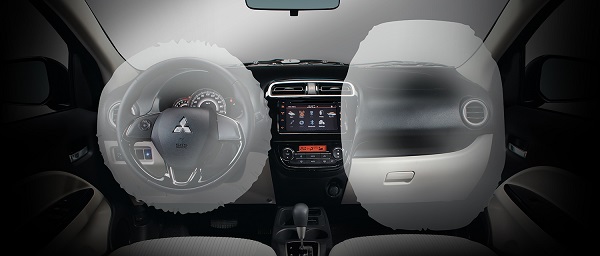 The Mirage G4 is equipped with decent safety goodies
However, as an upper-sec, new materials that are more durable, lighter, and more reliable are also being applied to GLS. One of the materials being used a lot today is reinforced steel and super-hard aluminum alloy. These materials can ensure the same hardness as the steel common to older vehicles, while the weight is much lighter.
Last but not least, any owner wants his beloved vehicle to own an additional camera to support the reverse car. Rear View sensors still have a certain number of blind spots, creating a higher chance of collisions than directly observed by wide-angle cameras, providing more extensive visibility. 
Therefore, the selection of models with integrated reverse camera and a large center screen is one of the top priorities when choosing to buy a car.
So, that's why we recommend you to bear in mind the GLS.
>>> Find more sedan car reviews on Philcarnews.com
Mitsubishi Mirage G4 GLX vs GLS: Price
If budget is your biggest concern, the GLX is the better choice. You will need P735,000 to own the GLX MT and pay P50,000 more for its CVT version.
Better yet, if you can spend just as much as P20k more, then you can have it, the GLS MT variant already.
|  Variant | Price |
| --- | --- |
|  Mitsubishi Mirage G4 GLX 1.2 MT |  ₱735,000 |
|  Mitsubishi Mirage G4 GLS 1.2 MT |  ₱755,000 |
|  Mitsubishi Mirage G4 GLX 1.2 CVT |  ₱785,000 |
|  Mitsubishi Mirage G4 GLS 1.2 CVT |  ₱869,000 |
Because each version has both its superiorities and inferiorities, so the decision is totally up to you. If you want a car with more accessories inside, the GLS is a better option. If you want your car to have more pulling power, take up GLX right now.
Mitsubishi Mirage G4 GLX vs GLS: Final words
Today in the Philippines, the number of vehicles is increasingly appearing on the streets of major cities of the country. We expect that with this Mitsubishi Mirage G4 GLX vs GLS comparison, you can come to an informed decision and have yourself the most relevant vehicle.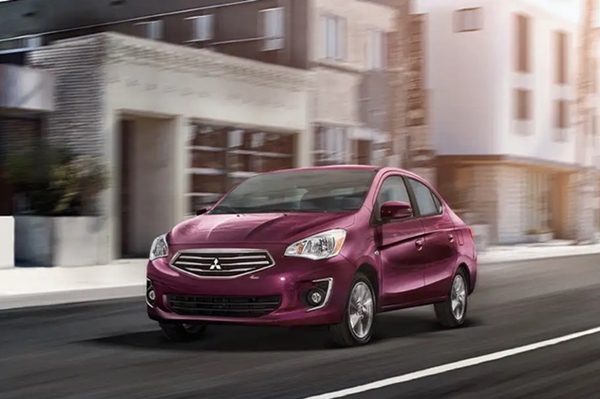 No matter what variant you buy, make sure to take a proper test drive
Follow us at Philcarnews.com for more interesting car comparos and updated motoring news and tips.