Toyota Wigo vs Hyundai Eon – which model should you buy for the first time? With the brands' core values​​, both have won a big number of target customers.
Toyota Wigo vs Hyundai Eon: Introduction 
As possessing many common points in terms of size parameters, engine equipment, and accompanying a list of features, Toyota Wigo and Hyundai Eon has long been a rivalry pair in the sedan segment.
The following article will compare the exterior, interior, engine & performance, and the fuel efficiency of both models.
Philcarnews.com hopes that we can help you with the quick determination to buy a suitable and modern family car. In addition to the price factor, many other criteria can affect car-buying decisions such as aesthetics, comfort, performance, safety equipment, and monthly payments.
Toyota Wigo vs Hyundai Eon: Exterior
While the Eon brings a sporty sense, the Wigo owns a classic vibe. Besides, the cars hold projector headlights and halogen bulbs that provide good lighting when it is dark.
The Hyundai Eon is shorter and narrower than the previous version, about 40mm in length and 45mm in width, while the height is higher, and the wheelbase is not much different.
To specify, the Hyundai Eon is designed with the smallest size among the Hyundai relatives with a length x width x height of 3,495 x 1,550 x 1,500 mm and a wheelbase of 2,380. The Toyota Wigo has overall dimensions of length x width x height are 3,660 x 1,600 x 1,520 mm.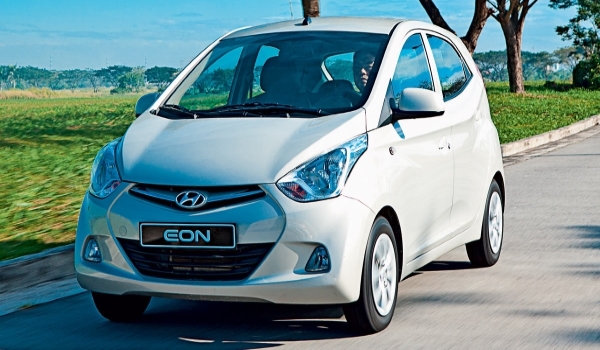 Toyota Wigo vs Hyundai Eon: Interior
Both Eon and Toyota Wigo are equipped with simple board designs with plastic material. Besides, spaces are fully utilized for more storage compartments. However, these cars don't have any accessories that are very similar to their origins.
Impressive interior material is an interesting point for users who long for the Hyundai Eon.  It's a combination of good quality plastic and leather that doesn't feel cheap at any touch.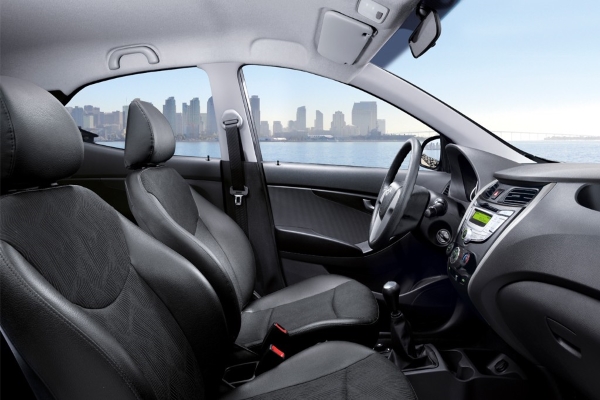 The Eon's equipment and advanced features are impressive enough to stunt the drivers at first sight as well as well-served the full-family needs.
The Hyundai Eon's interior design is modernized with curves that are seamlessly-combined and an electric rearview mirror, which is quite convenient for the driver when taking a drive.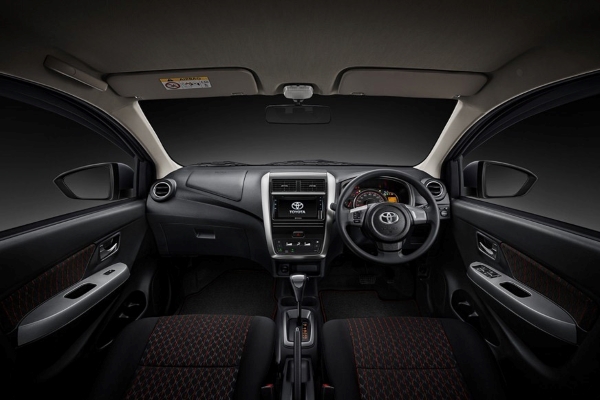 Looking right at the dashboard area, the Toyota Wigo has clearer sympathy to the viewer than the previous generations. The lines are very simple, and the material is over average when the hard plastic surfaces are much polished, the steering wheel is covered with soft plastic instead of leather.
Besides, the Japanese automaker has changed the entertainment system with a larger size that combines a DVD player for all versions. In particular, the automatic system has completely transformed with the manual adjustment with buttons instead of the knob shape.
Toyota Wigo vs Hyundai Eon: Engine & Performance
The Hyundai Eon is equipped with a new multi-point fuel injection that owns a capacity of 814 cc and three cylinders in-line. With the power from the small pepper engine, this car model can accelerate up to 5,500 rpm and maximum torque in 16 seconds.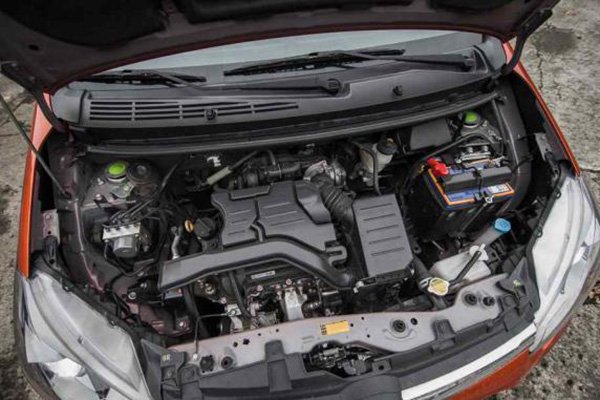 Hyundai Eon and Toyota Wigo are both equipped with efficient cylinders.
With a 4-speed automatic transmission, four cylinders for a capacity of up to 86 hp at 6,000 rpm, and a maximum torque of 107 Nm at 4,200 rpm, Toyota Wigo can be a great choice for racing-spirited drivers. Its engine comes with 2 versions: a 5-speed manual or 4-speed automatic and front-wheel drive.
Toyota Wigo vs Hyundai Eon: Fuel Efficiency 
It is a remarkable figure when you are interested in such small cars as Eon and Wigo. Fuel consumption is the most prominent feature of cars in this new generation.
The Eon's engines provide a greater fuel economy. It has impressive fuel consumption with 3.8 liters/100 km of road and 6.5 liters/100 km in urban areas.
The Wigo's fuel economy is also remarkable as it supplies a 3NR-VE engine with a 1.2L capacity. When moving at high speed with 12-13 km/l in city traffic, and 19-20 km/l on the highways, the Toyota Wigo still responds quite well.
The Wigo is relatively compact that can give a stable driving experience.
Toyota Wigo vs Hyundai Eon: Variants & Prices
The Toyota Wigo's price ranges start at PHP 557,000 for the 1.0 E variant that comes with a manual transmission and standard safety features. Next up is the G model offer at PHP 631,000 and a special TRD variant at PHP 696,000.
Toyota Wigo: Variants & Prices
>>> Full listings of Toyota Wigo 2020 - 2021: Variants and Price List
The Hyundai Eon starts at PHP 508,000. If you want to get the touch-screen with built-in navigation, prepare PHP 526,000 for the purchase.
Hyundai Eon: Variants & Prices
Toyota Wigo vs Hyundai Eon: Conclusion
Hyundai Eon almost overtakes the Toyota Wigo in all aspects. It is fair to say that the Hyundai Eon has won convincingly against the fellow countrymen.
However, the selling price is somewhat a huge barrier for the Eon. If you are not too concerned about the price, it is clear that the Hyundai deserves to be selected.
As noted before, the Wigo is a standard Toyota model - a car manufacturer that is super well-known for its automotive durability and ability to maintain and well-restrained the prices.
The battle of Toyota Wigo vs Hyundai Eon proves that even inexpensive and cheerful features can blend so well together to create two of the most affordable hatchbacks in the market nowadays. 
>>> Bookmark our Car Tips & Advice section and we will get back with more auto news and helpful tips for car owners!