The battle between Toyota Vios Vs Hyundai Accent never seems to end. Want to find out which is going to win this fight? Let's dig into this article to check it out now!
Toyota Vios Vs Hyundai Accent: Introduction
With affordable prices, durability, and eye-catching appearance, Toyota Vios vs Hyundai Accent are two of the most famous cars in the Philippines market for many years. In 2002, the Hyundai Accent officially met its biggest rival for the first time - the Toyota Vios and has been competing strongly in the sedan B-segment since then. 
Both models are quite the same somehow, however, each of them has their own uniqueness. Let Philcarnews.com show you some of their most noticeable differences between the Vios and the Accent to comfort your future buying decision if you have accidentally laid eyes on one of them.
Toyota Vios Vs Hyundai Accent: Dimensions & Color
The Hyundai Accent catches the eyes of many users today who are craving a car for personal use. With a dimension of 1.460 mm high, 1.729 mm wide, and 4.440 long, it is also suitable for families and can fit up to five people.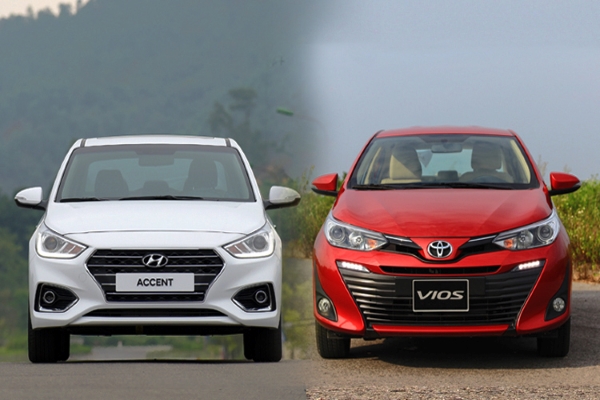 Regarding the Toyota Vios, the size is quite the same as the Accent (1475h x 1730w x 4425l).
Since the Hyundai Accent length is slightly longer, it has the advantages of a more extensive interior and cargo. On the other hand, thanks to its small size, the Toyota Vios seems to wriggle easier on crowded streets. 
As for the color pallet, they both have ordinary colors of every variant, such as grey, black, and white. You can choose from one out of six colors with the Hyundai cars and five with the Toyota's.
Toyota Vios vs Hyundai Accent: Exterior & Interior
When it comes to the exterior, the Toyota Vios seems to be more sporty yet still reserve the appearance of a standard sedan with a halogen headlight and a time adjustment wiper. In contrast, the Hyundai model stands out with its auto sensor windscreen wiper and projector fog lights in the front.
Overall, as for the design, we would recommend the Vios since it is quite a breakthrough compared to the Accent. Moreover, the Vios appears to be more flexible for families with little houses and lanes.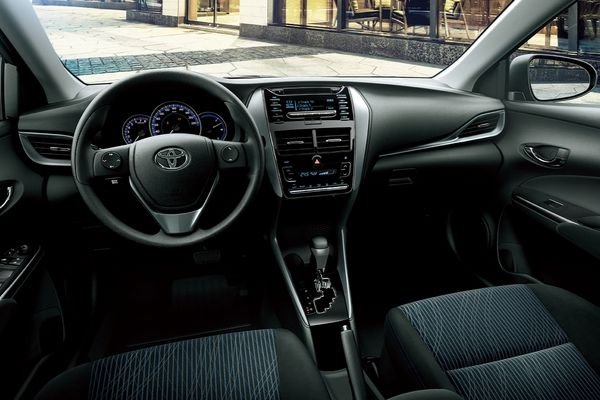 The interior design of the Toyota Vios 2020
Both of them have adjustable drivers' seat, and other seats can be folded 60:40 ratio. What we prefer about Vios is the cupholder as itis excellent that we don't have to hold our drink all the time on the road. 
Moreover, the Accent has a sunroof, that feature has already won many hearts once mentioned. About the Vios, the furniture is beige and black with leather or felt seats.
The Vios 2020 is upgraded significantly in interior design with arranged scientifically and handy control buttons that can keep up with the Accent day by day.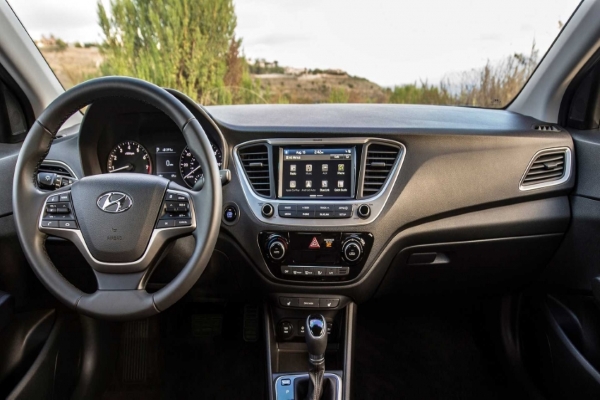 When you are on any means of transports, one of the most annoying things is probably the legroom, right? Same with cars. Though the Vios is slightly smaller than the Accent, its legroom is much more spacious and comfortable.
For these reasons, in this Hyundai Accent vs Toyota Vios battle round, it seems like the Toyota Vios has defeated the Hyundai Accent for the comfortability of seats. 
Toyota Vios vs Hyundai Accent: In-car Entertainment
In terms of in-car entertainment, there are many similar points between these two. Both of them have a 3-spoke steering wheel, SmartKey, and touch screen with speakers for entertainment. 
Toyota Vios has improved its 7-inch screen which can automatically connect with Apple and Android, making it much more convenient for drivers when it comes to on-drive entertainment. 
The Hyundai Accent, different from the Vios, does not have a radio but is equipped with a navigation system to enhance the drivers' experiences. 
Toyota Vios vs Hyundai Accent: Engine & Performance
When it comes to performance, Toyota Vios 2020 is equipped with a powerful engine of 1.5L and Hyundai Accent's engine capacity is 1.4L. 
Moreover, Vios can produce a max output of 107 hp at 6,000 rpm and maximum torque of 140 Nm at 4,200 rpm, while Hyundai Accent 2020 capability is 100 hp at 6,000 rpm and 132 Nm at 4,000 rpm, respectively.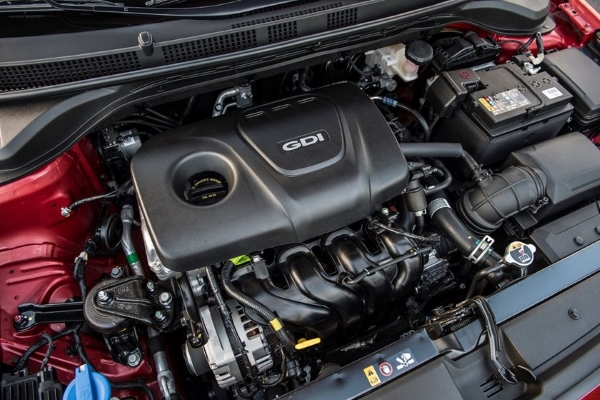 Additionally, Vios comes with a CVT automatic transmission, which is more preferred than Hyundai with 6-speed automatic transmission.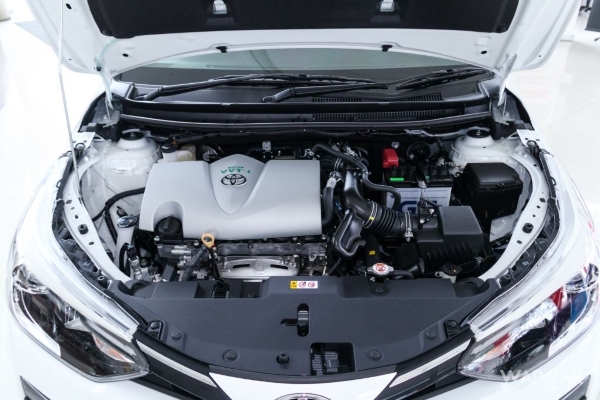 Overall, regarding the engine, Toyota surpasses its rival. Let's continue with other aspects right away!
Toyota Vios vs Hyundai Accent: Safety Features
Keeping an eye on safety features is vital when choosing a car. To be fair, both of them meet the safety requirement with Airbag, Anti-lock braking system ABS, Electronic brake force distribution, sensor back, and anti-thief alarm (2020 version). 
However, only the Hyundai Accent has an anti-slip system and reverse camera, making it more modern than the Vios.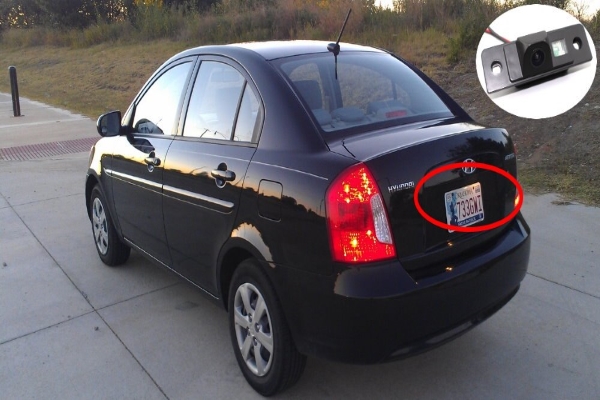 Hyundai Accent's Reverse Camera - One of the model's notable safety features.
Moreover, some of the Vios models have fewer airbags, no sensor back, and no anti-theft key that are available in the Hyundai versions. 
Overall, the Hyundai Accent wins the battle of safety features with the latest version. If you want to purchase an old car, deliberating the airbags issue with the dealers is essential. Remember to communicated carefully before purchasing one. 
Toyota Vios vs Hyundai Accent: Variants & Price
Both cars are made for budget users; thus, the price is reasonable. The cost of the Hyundai Accent ranged from PHP 790,000 to PHP 1.038,000 (Accent GL 1.6 CRDi AT). Toyota Vios is a little bit more expensive with the CVT variant (1,056,000). Hence, many people choose Hyundai for its price. 
Variants and Prices of the Toyota Vios 2020
Variants and Prices of the Hyundai Accent 2020
Compared to the four variants of Accents, it appears that the 1.4 AT Special variant seems to be the most advanced one. The 1.4 MT Base, though cheapest, can not enter our recommendation since its lacking many facilities.
If you need a decent car with affordable prices, we would like to recommend you a new version and well-equipped Hyundai Accent 1.4L AT.
>>> Take a look at our Car Maintenance tips for more useful notifications!
Toyota Vios vs Hyundai Accent: In A Nutshell
Now I hope you can make your decision between Toyota Vios vs Hyundai Accent.
Overall, the Hyundai Accent is more affordable and safe with the young design for young people. On the other hand, Toyota's performance is much superior and comfortable with a sporty and mature system. 
It is hard to select since they seem to be equal in every aspect in general. Choose a model that suits your need and specific requirement the best... and you are ready to go! 
Thank you for sticking with Philcarnews till the end! We will see you next time with more Car Buying and Selling notices, exclusively released in the Philippines!