Besides being a famous actor, Coco Martin is also a pro car collector. Let's take a peek at Coco Martin's & 8 other Filipino celebs' car collections through this article.
​
Having a good career, nice house, and a good car is everyone's dream. But, how about the famous ones - the Filipino celebs? How is their taste different from the others? Are you curious about that?
In today's article, we will be talking about 9 most popular Filipino celebs & their car collections. We are sure these faces are familiar to you, not only because of their stunning look, but also their achievements, huge net worth, and maybe their keen eyes on choosing cars.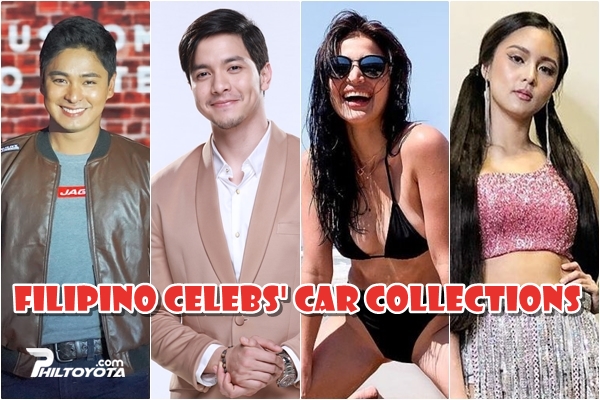 We are about to unveil Pinoy celebrity car list this 2020 of Coco Martin, Alden Richards, Anna Curtis, Kim Chiu and more
Let's take a look at the rarest cars in the Philippines owned by the most famous celebrities locally.
1. Coco Martin car collection
When it comes to Filipino hottest actors, there is a high chance that the name of Coco Martin will popup in everyone's mind as someone who has multiple endorsement deals in his hand, not to mention the highest-rated TV Shows and Blockbuster movies.
It is understandable that he is the type that can buy whatever he wants, and since he is a total car nut, he deserves the #1 position in our list of  Pinoy celebrity car collections.
As stated in some highly trusted sources, Coco Martin's net worth is estimated at about USD 20 million. We can convert that huge amount into Philippine pesos, and that would be roughly about Php 1 Billion.
Such a fortune, right?
Sino ba si Coco Martin? | The Coco Martin Life Story
With such an asset, there is no doubt that he owns one of the most impressive garages in the Philippines. In addition to event-related photos, Coco Martin is also proud to share pictures of his cars on his Instagram account.
Let's keep your jaw from dropping off since we are about to admire Coco Martin car collection which is believed to have a total worth of nearly Php 70 million: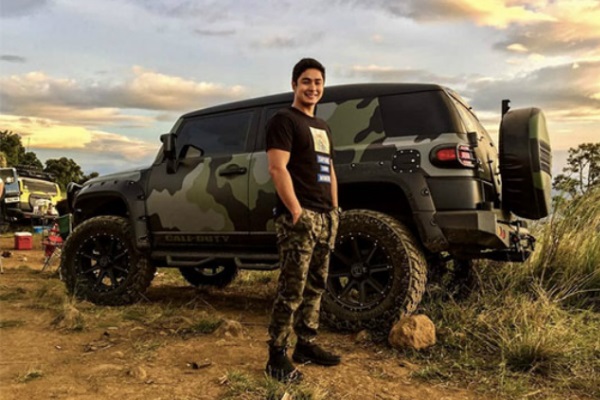 Toyota FJ Cruise - About Php 2,048,000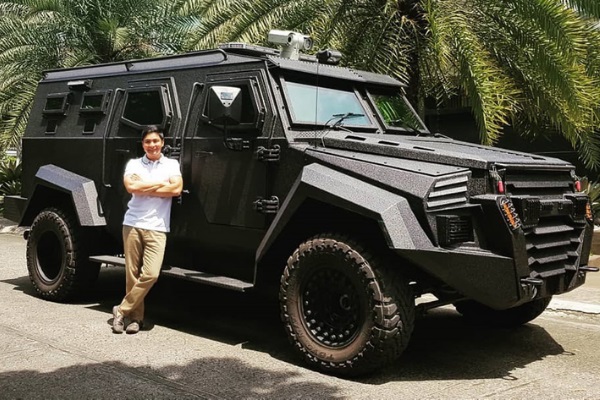 Inkas Sentry - About Php 43 million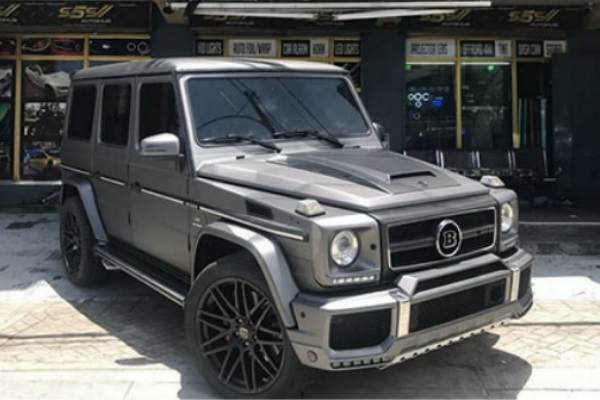 Brabus Mercedes G63 - About Php 12 million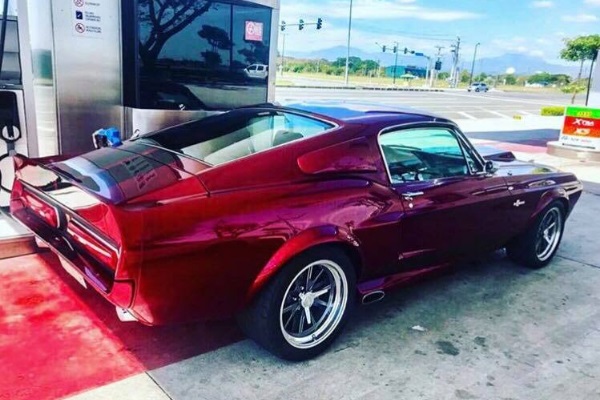 1967 Shelby Mustang GT500 Fastback - About Php 11.3 million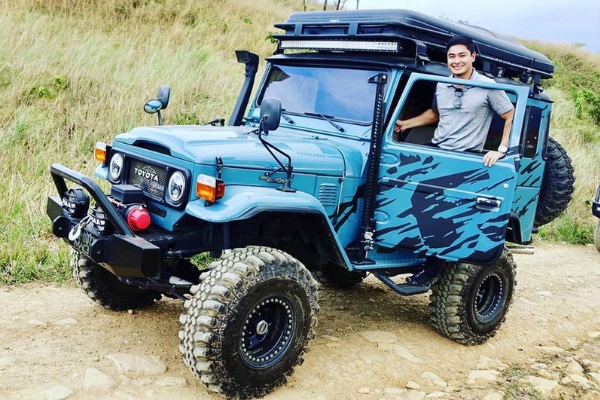 Toyota FJ 40 - About Php 500,000 for the specimen
2. Alden Richards car collection
The "Pambansang Bae" has gained his fame since his participation in the all-time hit noontime show Eat Bulaga together with his on-screen other half Maine Mendoza.
If you ever look at Alden Richards Instagram account, you will totally agree with us that he owns a stunning car collection. 
When Alden started his career, his "collection" only included a second-hand car. Later on, as Alden getting more and more achievements, he bought himself a Mitsubishi Pajero, and now he adds to his garage a black Puma XE.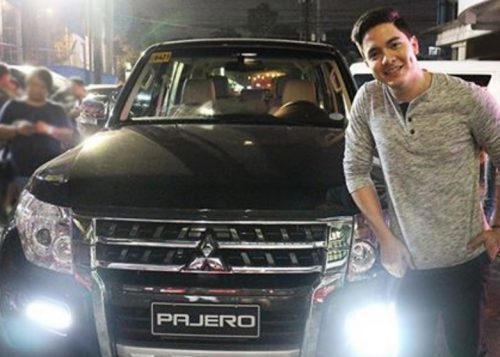 Alden Richards and his Mitsubishi Pajero
He once said that he had always wanted to drive a sports car and he bought one as compensation for himself for all his hard-working time. 
Alden Richards net worth is estimated to be somewhere around Php 246 Million. We believe this huge net worth is still increasing and let's wait and see what is the next addition to this car nut's garage.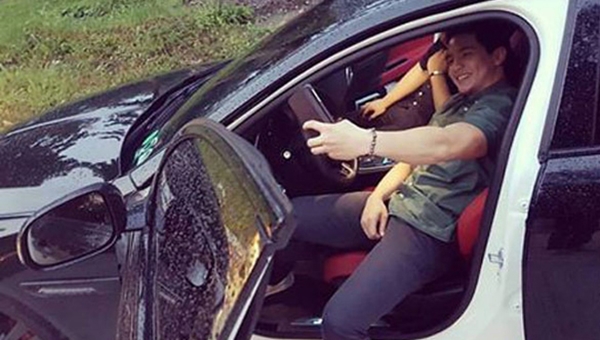 Alden and his Jaguar XE S priced at roughly Php 5.67 million
3. Kim Chiu car collection
If being asked who is the Chinita Princess among Filipino celebs, one can easily answer that is Kim Chiu.
She is a Chinese-Filipina celeb acting in various roles such as an actress, endorser, record artist, and even a host. She became more popular after joining hands in the reality game show "Pinoy Big Brother: Teen Edition" in the year of 2005 - when the first season of this ABS-CBN Network's reality game show started.
Kim Chiu's net worth is reported to be approximately Php 250 million.
Same as other Pinoy celebrities in this list, Kim Chiu car collection is considered to be enviable, including a Jeep Wrangler (Php 1,990,000 – 3,360,000), and a uniquely-customized Hyundai H350 van (worth a total of around Php 2.7 million).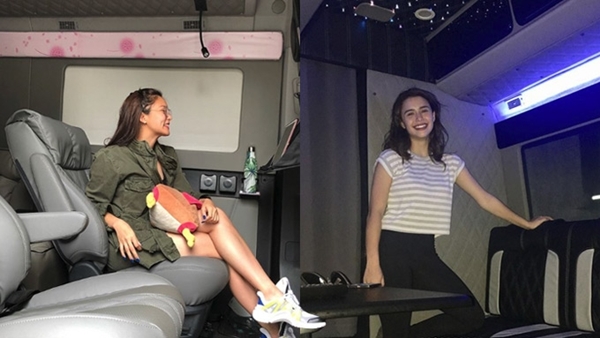 So this is how a celebrity van could look like
Kim Chiu and her Jeep Wrangler - picture shared on Kim Chiu's instagram
4. Anne Curtis car collection
Anne Curtis is mostly known for being a Filipino-Australian actress. Besides, she also acts as a television host, VJ, and recording artist.
She was born in Yarrawonga, Victoria, Australia in February 1985. Anne Curtis has started her career since 2004 starring in the TV series Hiram. After that, she starred in Kampanerang Kuba in 2005, Maging Sino Ka Man from 2006 to 2007, Dyosa in 2008, The Wedding in 2009, Green Rose in 2011, Kailangan Ko'y Ikaw in 2013 and so on.
In 2011, Curtis earned a FAMAS Award for Best Actress in her movie No Other Woman. In her career, she also won a Metro Manila Film Festival Award. She has also been nominated for six PMPC Star Awards for TV, three FAMAS Awards, three PMPC Star Awards for Movies, and two Luna Awards. In 2011, Curtis released the studio albums Annebisyosa, and 3 years later The Forbidden Album was released.
Speaking of Anne Curtis' net worth, there is an estimation of Php 493 million. So we can be sure that in this list of Filipino celeb car collection, Anne Curtis car collection is no way something of cheapskate, right? And here they are: Audi Q5 (Php 4 - 5 million) and Audi A3 1.8 TFSI (Php 2.5 million).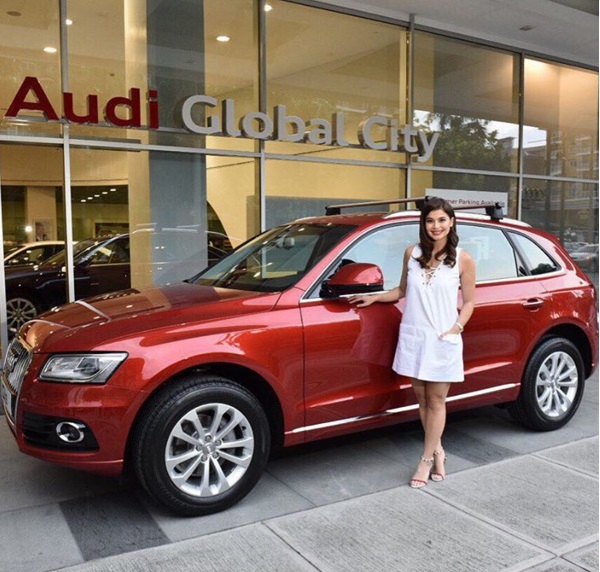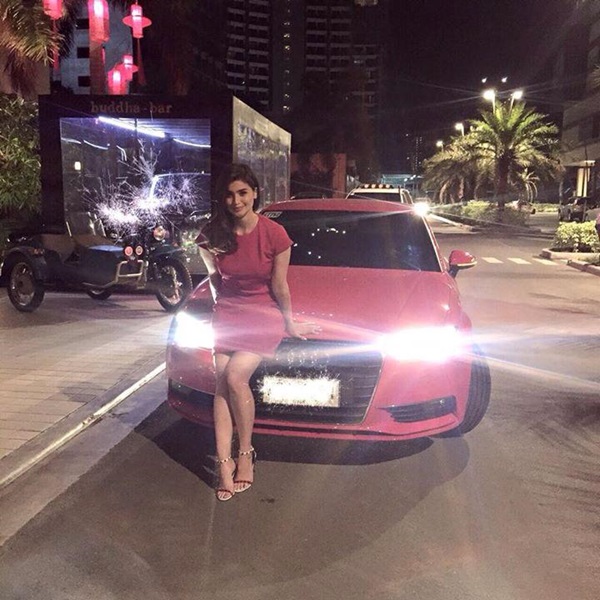 Kim Chiu and her Audi Q5 (Php 4 - 5 million) and Audi A3 1.8 TFSI (Php 2.5 million)
5. Enrique Gil car collection
Through the television shows "Budoy and Princess and I", Enrique Gil has built up his fame and status to be known as a famous actor, TV actor, and dancer.
Born in 1992, he was chosen as the first on the 100 Best Men list of 2013. His attempt at musical theater, and modeling classes when only at the age of 16 was incredible for many. This is also a big step for his success on landing several TV commercial sport videos.
With all of his effort, Enrique Gil's net worth is now believed to be about Php 200 million.
He also has particular interest in cars. Worth mentioning in Enrique Gil car collection are a red Dodge Nitro (about Php 1.8 million) and a Chevrolet Camaro 2009 (about Php 3.3 million) as shown below: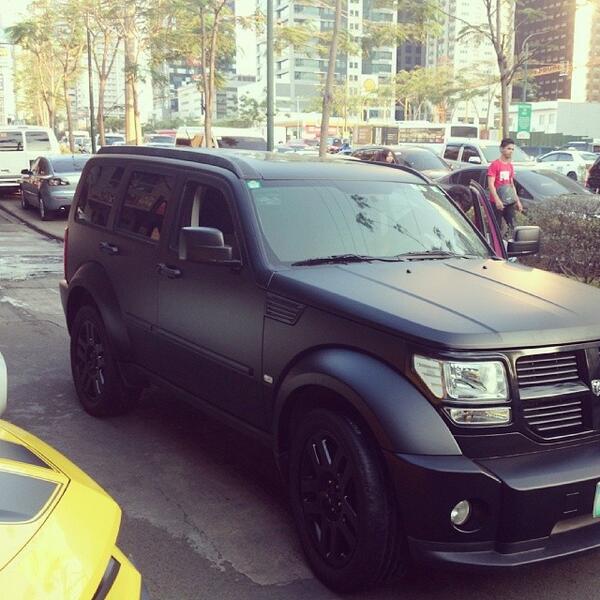 6. Marian Rivera car collection
Marian Rivera is well known through many famous television shows such as "MariMar", "Dyesebel", "Darna", "Amaya"; along with many hot films (for example: "My Best Friend's Girl Friend", "You To Me Are Everything", "Panday 2") which have gained more than Php 100 million revenue each.
She had been honored three times as the most beautiful, and the sexiest woman in the Philippines by the FHM's Hall of Fame.
Marian Rivera's net worth is said to be around Php 500 million. A Mercedes Benz GLK 220 (priced at approximately Php 4.7 million) is what Maian chose to put into her garage. This SUV is a great choice for those who are into high class and family friendl7 vehicles.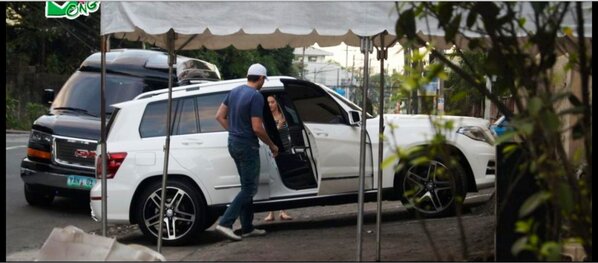 Marian and her Mercedes Benz GLK 220 priced at approximately Php 4.7 million
>>> Recommended article: Top 10 best cars for ladies in the Philippines this 2020
7. Dingdong Dantes car collection
Known as Marian Rivera husband, Dingdong Dantes is also a "big boss" in the industry by owning YES Pinoy Foundation, Inc - a company of educating promised talents with three main criteria of recruitment, namely Young, Empowered, and Service-Oriented.
Dingdong Dantes met Marian Rivera through their MariMar teleserye. To be more precise, it was when he acted as MariMar's love interest, whose name was Sergio Santibañez.
Dingdong Dantes' net worth, although less than his wife's, is still considered as a vast amount already - Php 150 million.
So what is there in Dingdong Dantes car collection? We have a silver Maserati Granturismo (about Php 7.2 million) as shown in the picture below: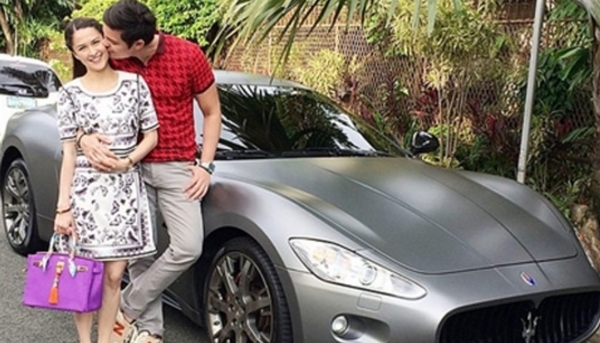 8. Aljur Abrenica car collection
Aljur Abrenica started his career through a series of well-known TV shows in GMA Network's "Macheter", "The Last Prince", "Zaido", "Dyesebel", and so on.
At present, he has found his new home in ABS CBN's "FPJ's Ang Probinsyano" and is wholeheartedly enjoying being a new father to his son Uno Alas. Aljur Abrenica's net worth is predicted to be Php 50 million.
Although it took some time for the new Kapamilya actor Aljur Abrenica to return to showbiz, the new dad was able to afford this car with the money he earned when he was still within the Kapuso Network.
The one to be listed in Aljur Abrenica car collection is the SRT8 392 model (approximately Php 4,250,000), which contains a 470-hp 6.4L SRT9 Hemi V8 motor.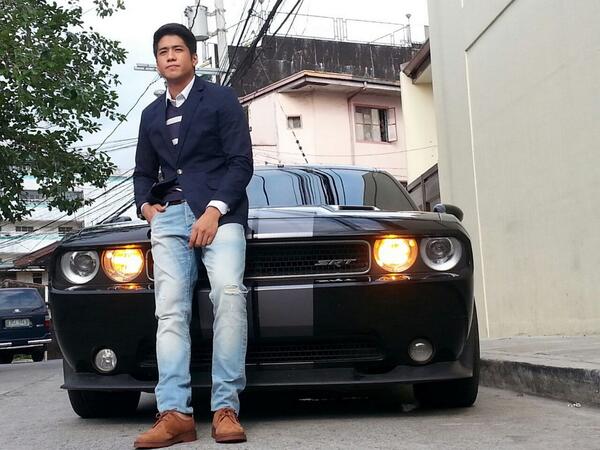 Aljur Abrenica and his car named "Zero"
9. Barbie Forteza car collection
Barbie Forteza has been a familiar name on Filipino television screens. She entered the movie industry when she was at age 12, through the local adaptation of the famous Korean drama Stairway to Heaven. Since then she has consistently featured in both film and TV.
Her nearly-10-year vocation has had her acting chops shone brightly and marked her name in the industry.
With Barbie Forteza's net worth of Php 30 million, many would wonder about what kind of vehicles they are in Barbie Forteza car collection. 
It is not a luxury car, in fact. Barbie Forteza seems to look for practicality and a quiet lifestyle since she is driving a Toyota Fortuner which costs about Php 1.3 million.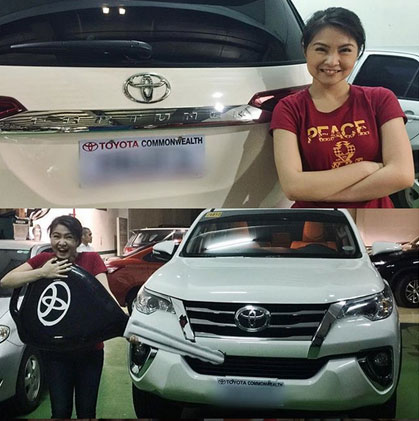 Barbie Forteza and her white Toyota Fortuner
This is the end of our list of Pinoy celebrities' cars 2020. Throughout this post, we have shared the overall information of the most famous celebrities in the Philippines, their career growth, their jaw-dropping net worth, and most importantly - their car collection.
We hope this Filipino celeb car collection can help you learn or know more about the way that famous celebrities choose their car, unveiling somewhat about their personality through their taste in cars.
Thank you for reading and keep visiting us at Philcarnews.com for updated local motoring news and more helpful advice for car owners.