What makes this Nissan's sporty SUV in demand?
The first time I laid my eyes on the solar yellow Nissan Juke traversing the highway towards the South, I just fell in love with it. It's like a breath of fresh air – like in a pool of SUVs where everyone just looks the same, or nearly similar, Nissan Juke surely stands out. It exudes a sportier look with a unique design like it's a crossbreed between a sports car and SUV. Angst and class all at the same time. Who wouldn't fall in love with this vehicle?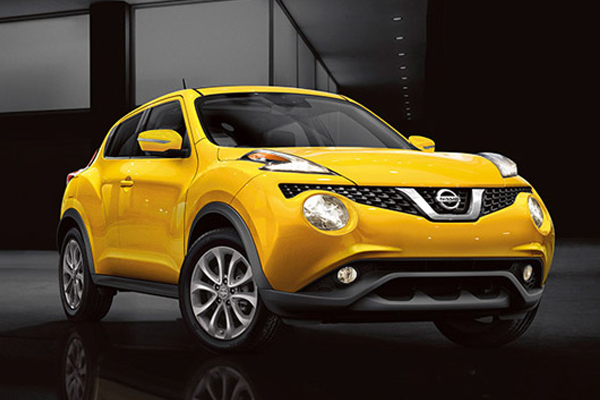 With its extraordinary good looks, who wouldn't turn their heads upon seeing Nissan Juke on the road?
According to the latest car news, the Nissan Juke has reached its one-millionth unit in Sunderland, the United Kingdom where one unit is built every 105 seconds.
The one-millionth unit was a Tekna grade, Vivid Blue in color. The Nissan Juke was just the second Nissan crossover built in Sunderland, right after the Nissan Qashqai back in 2006.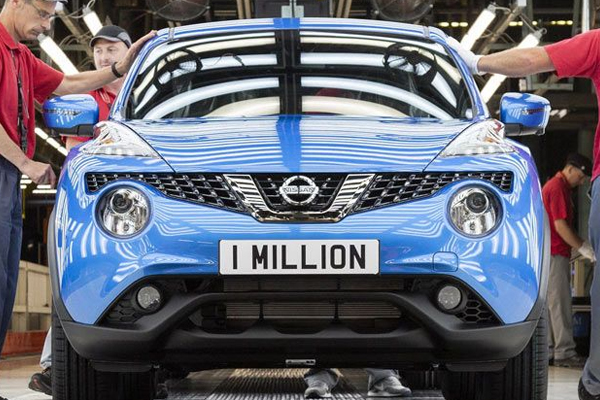 It is not surprising that Nissan Juke has reached its one-millionth unit produced in Sunderland
Reaching one million units is quite heavy to boast. A car won't reach this number of production unless the car is a hit not only to its target market but also to those who were not much into bigger vehicles but got convinced to buy this vehicle. There must be something in Nissan Juke 2018 (besides its dashing good looks) that makes it dear to people.
Since this car is also available in the Philippines, it would be nice to see the features that this vehicle has to offer to its potential car buyers. It sure is good to stand out among other vehicles physically, but its way better to have other features that can provide comfort, convenience and safety to its passengers.
We, at Philcarnews.com, would like to give you all the information you need about this breathtaking car, in case you're looking to upgrade to something bigger.
1. Nissan Juke 2018 Exterior 
The Nissan Juke 2018 is a "Sport Cross" that comes in four different colors, namely: Solar Yellow, Pearl White, Red Alert and Black Obsidian. For the lighting system, the Juke is equipped with Halogen Projector headlights with LED Clearance Lamps, front fog lamps, LED side turn lamp and LED rear combination lamps.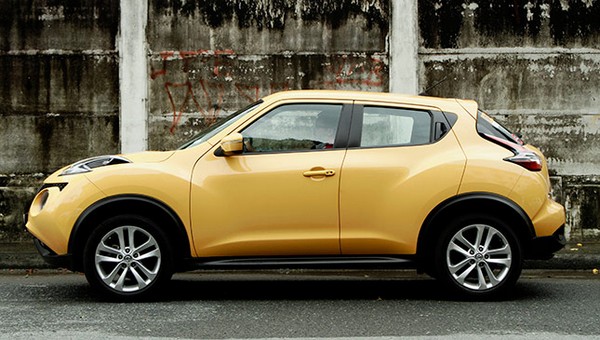 The Nissan Juke is undeniably sporty and rough looking
It also sports a chrome grill with V-motion character design, body colored front bumper, electric folding, auto adjust & auto-folding with key lock outside door mirror, variable intermittent front and rear wiper. Its shoe size is 215/55R17 with 17" alloy wheels.
2. Nissan Juke 2018 Interior
The Nissan Juke being sporty and classy outside is also dressed up pretty well inside. It provides ample space for all passengers, having dimensions of 4,135mm length, 1,765mm width and 1,580mm height plus a wheelbase of 2,520mm.
It can seat up to five people comfortably, still with enough space for cargo at the back of 251 liters. If full flat interior, cargo space would be up to 830 liters.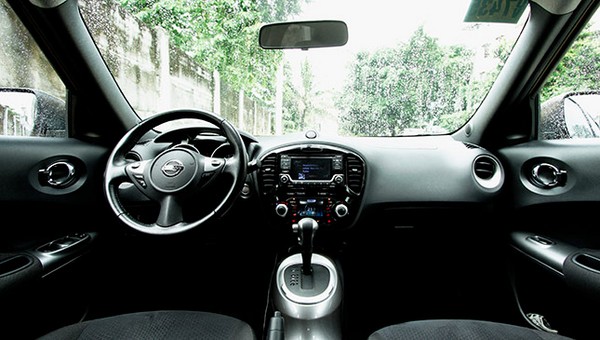 Accompanying the sporty exterior is a black themed classy interior design
The Nissan Juke 2018 interior has fabric seats with a black color scheme that makes it sleek and classy too. The driver seat has a manual slide, recline and lift function and also comes with adjustable and active restraint headrest, the latter being present in the front and rear passenger seats as well. Rear seats can also be folded, 60:40.
A drive computer display in Meter also comes standard in this vehicle alongside with manual anti-dazzling room mirror, a digital clock within the audio head unit and cabin lamp. For extra storage, Nissan Juke is equipped with an illuminated glove box and large type center console.
Nissan Juke stays simple and low key in terms of audio, entertainment and other car functions that cater to comfort and convenience.
On the driver's side, there are a One-Touch, Auto Up/Down and Pinch Prevent power window controls, while the rest of the seating sides only have the power window functions. It also has an air conditioning system with Full Autoclimate Control, 2 DIN Display Audio Systems with 6 speakers that work with a pole type of antenna to get the best reception for all your entertainment needs.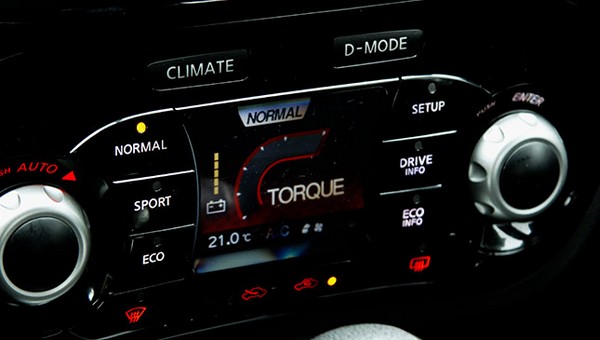 The Nissan Juke sports a lot of modern and easy access features that provide infotainment within a touch of your fingertips
You can also use its 12V power outlet and I-CON or Integrated Control System that provides assistance in controlling the following functions: air conditioner, drive mode change, vehicle information and heater control.
The Nissan Juke also comes with Intelligent Key, Push Start System and Rear camera to help in reverse driving or parking. The Juke also has a speed sensing, electric power steering with tilt steering column made out of leather material that also contains some of the controls such as audio, cruise control and Bluetooth connectivity.
3. Nissan Juke 2018 Engine, Transmission and Suspension
The Nissan Juke runs on a 1.6-liter In-line 4-Cylinder, DOHC, 16-valve CVTC engine that can produce a power of 116ps/5,600RPM and maximum torque of 154Nm/4,000RPM. It uses an electronics injection multipoint ignition system and Xtronic CVT transmission type.
For the front suspension, the Nissan Juke 2018 sports an Independent MacPherson Strut while for the rear suspension it uses a torsion beam axle.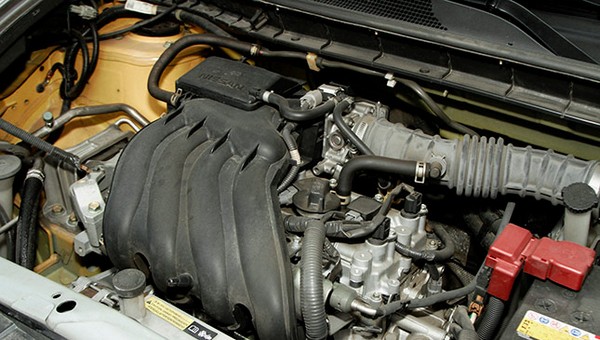 The Nissan Juke runs on a 1.6-liter In-line 4-Cylinder, DOHC, 16-valve CVTC engine
6. Safety and Security
This vehicle is also equipped with necessary safety details for all of its passengers. It sports Dual Front SRS Airbags alongside with 3 point ELR with Double Pre-tensioner & load limiters. The passenger side, on the other hand, has a 3-point AELR with single pre-tensioner & load limiter. Rear passengers have left, right and center seatbelt with 3pointst ELR.
There's also an immobilizer for its anti-theft system, with high mount stop lamp and ISO-FIX and tether child protection lock. Nissan Juke also has ABS orAnti-Locking Brake System.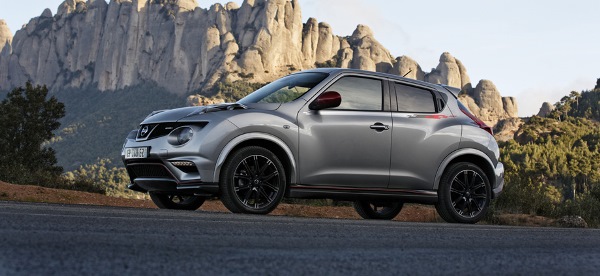 This vehicle is also equipped with necessary safety details for all of its passengers
7. Nissan Juke 2018  Price in the Philippines
The Nissan Juke 2018 in the Philippines can be bought starting at PHP 1,021,000 from any of your Nissan dealerships nationwide.
Given these features, anyone can see the reason why the Nissan Juke could be one of UK's most favorite crossover slash SUV. It will not be a surprise as well that this model can reach the same number of units produced in other countries.
In the local setting, having a price that is at par with other sedans, but you'll get the privilege of having a much more extraordinary looking car, the Nissan Juke should be the one to consider.
Source: Ivy Kristia Padura