The BYD Tang 2018 can push out up to 505 horsepower.
Since the TRAIN came into effects, changes have come in many automakers' strategies to better occupy market share in the Philippines. BYD, taking this chance, has decided to emphasize their electric car production with a multi-layered electric transportation solution in the market. 
First and foremost, the auto brand has plans for the 7-seater plug-in hybrid SUV BYD Tang 2018 whose name derives from the Tang Dynasty. Its two 150-HP electric motors secure an 80km range of running in pure electric. The thing is when signs of low electric power come, the car automatically activates another 2.0L turbocharged gas engine.
The Dual Mode system allows the hybrid electric mode on; therefore, the vehicle puts out 505HP altogether. The vehicle can accelerate from rest to 100kph in only 4.9s while being capable of a top speed of 180 mph and 50kpl in terms of fuel economy.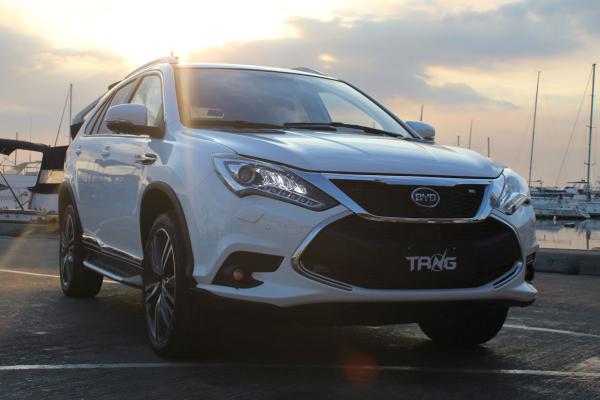 The 7-seater plug-in hybrid SUV BYD Tang 2018's name derives from the Tang Dynasty
Taking the 18.4kWh Li iron phosphate battery, it needs to be replenished via an accustomed 220V socket. Pronounced features include an air-purifying system, 10.1-inch infotainment system, leather seats, and a panoramic sunroof. 
With two options of color which are Chocolate Brown and Timo White, the SRP can be ordered at any authorized BYD showrooms in the Philippines if you make sure you can afford P3,288,000.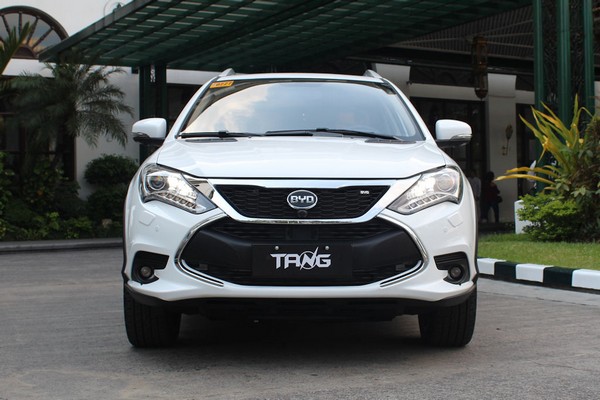 The vehicle can accelerate from rest to 100kph in only 4.9s
Before the BYD Tang 2018 can find the road surface, you still can enjoy other awesome BYD models which have been available such as the 5-seater plug-in sedan BYD e5 capable of a 300km range per charge and top speed of 130 kph and the electric MPV BYD e6 which guarantees an impressive 400km range per charge.
Beside the Tang, BYD Philippines revealed their electric forklift as well. With the same battery the Tang comes equipped with, this model is claimed to last a lifespan of 10 years, hence keeping the operating cost down by 50 percent opposed to its lead-acid battery peers and up to 80 percent opposed to diesel-powered forklifts.
Review All New BYD Tang Dynasty SUV (2019)
Other good news for BYD fans is that they just shook hands with Iloilo and Bataan's governments in developing their Skyrail system.
Mark Andrew Tieng, President of Solar Transport and Automatic Resources Corporation, the lone distributor of BYD in the Philippines, is positive about the future of the BYD when the TRAIN law is beneficial to electric vehicle production which BYD has embarked on from the early days they stepped into the Philippine market.
He promises the auto brand and its excellent employees will keep motivated and gain more achievements with high-tech innovations in the auto industry and also provide customers with best ownership experience.