Let's read to know Toyota Vios through facts and figures.
I remember the first time I ever knew a Toyota besides its classic Corolla – because before when I was little and younger, whenever I hear Toyota, I almost instantaneously associate it with a Corolla and nothing else comes to mind – until I learned of the Toyota Vios.
I remember a good old friend owning one and driving it to my first office, silver in color, kind of round at the back, smooth curves and it's like a breath of fresh air from the typical edgy, box-type cars I've seen cruising along the streets.
1. Toyota Vios: Sales Spree
Well, with the fresh look it introduced to change the look of cars in the Philippines since 2003, it is not surprising that it has become the best-selling passenger car in the country, selling over 270,000 units and counting to date.
The Toyota Vios even holds a record achievement of 1.5 million in cumulative sales throughout the three decades of Toyota's lifespan in the Philippines.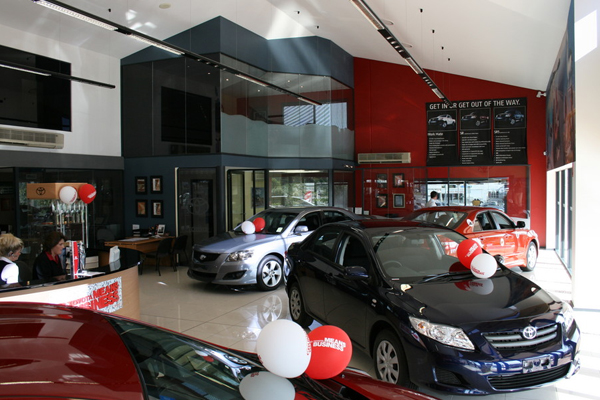 The Toyota Vios sales have been up and consistent since the beginning of its production in the early 2000s
The Toyota Vios still holds the number one spot in the sub-compact segment when talking about volume and market share, holding a huge chunk amounting to 43.4% and selling 36,700 units in 2017 alone out of 85,000 available sub-compact units.
As they phased out the outgoing model to give way to the new one at the start of 2018, the Toyota Vios still managed to own 11% of the sub-compact market share in June – selling 600 units out of the sub-compact segment's 5,000 units.
2. Toyota Vios: Target Market
Toyota Vios' targets potential car buyers in the age bracket of 30 to 39 years old, 60% male and married (68%) who will need to have an average income between PHP 80,000 to PHP 85,000 per month. The people from this target market buy Toyota Vios mostly because of the following factors:
Exterior Styling – 17%
Fuel Economy – 13%
Riding Comfort – 13%
Having the style or the overlook of the car as the main factor why people buy Toyota Vios, the car brand then decides to launch "Prime" variants of the same model – which will cost the customer about PHP 50,000 to upgrade to. The upgrade will include extra features that will make the normal Toyota Vios extraordinary – sportier front and rear bumpers, rear spoiler and a set of two-tone 16-inch allow wheels (195/60 R16 – available only for the 1.5G Prime).
3. Toyota Vios: Future Plans
Having a successful turnout in the previous years, Toyota is committed to attend to its fans' need for more of this always highly anticipated car. Being a part of CARS or Comprehensive Automotive Resurgence Strategy with enough confidence that they will achieve their target, Toyota eyes into producing 200,000 units in the next six years.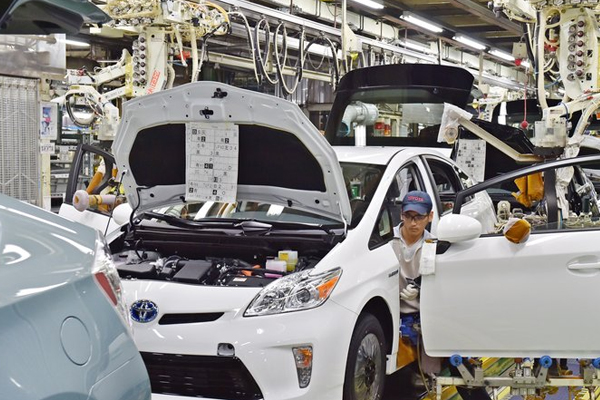 The Toyota Vios production in the next coming years is very promising
Toyota is also proud to say that the all-new Toyota Vios is made of 40% local content, and 50% if assembly cost will be counted.
The brand is looking into selling 3,500 units monthly.
4. Toyota Vios 2018 Specifications and Features
4.1. Toyota Vios 2018 variants
The current Toyota Vios comes in several variants that include:
1.3 Base – PHP 659,000
1.3J M/T – PHP 685,000
1.3E M/T – PHP 828,000
1.3E CVT – PHP 878,000
1.3E Prime M/T – PHP 883,000
1.3E Prime CVT – PHP 933,000
1.5G M/T White Pearl – PHP 996,000
1.5G M/T Red – PHP 981,000
1.5G CVT White Pearl – PHP 1,055,000
1.5G CVT Red – PHP 1,040,000
1.5G CVT White Pearl PRIME – PHP 1,110,000
1.5G CVT Red PRIME – PHP 1,095,000
Lots of options to choose from, eh? We'll take a closer look at one of these variants, which is the 1.5G variant.
4.2. Toyota Vios 2018 exterior
The Toyota Vios 1.5G comes in two different transmissions, CVT or Continuous Variable Transmission and M/T or Manual Transmission both 5-speed. It also comes in two different colors, White Pearl and Red – but they all share the same dimensions: 4,425mm x 1,730mm x 1,475mm.
It has a wheelbase of 2,550mm and sports 16-inch alloy wheels.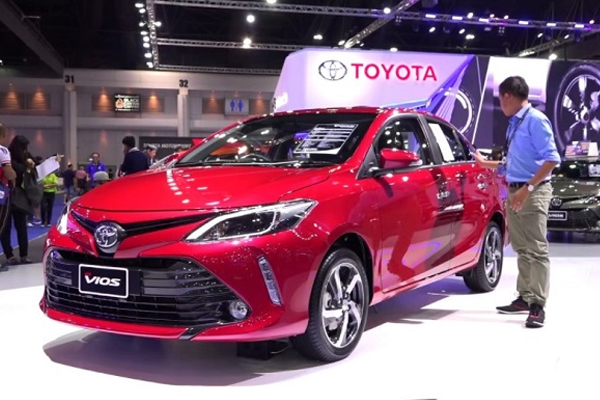 The new Toyota Vios sports a great and dashing looking facade and comes in several different colors for the customers to choose from
It sports Halogen projector-type headlamps, daytime running lights, front fog lamps, LED with line guide rear combination lamps and outer mirror integrated side turn signal lamp. It also has color-keyed outer mirrors, chrome plated grip-type door outside handle and fin type antenna.
Toyota Vios in general also comes in 9 different colors, namely: Super Red, Grayish Blue Mica Metallic, Freedom White, Alumina Jade Metallic, Blackish Red Mica, Thermalyte, White Pearl, Red Mica Metallic and Black.
4.3. Toyota Vios 2018 interior
Inside this Toyota Vios 1.5G is an auto cooler air conditioning system, Optitron meter Gauge, Touch Screen 7" display audio with CD/MP3 and Weblink for iOS and Android with Bluetooth, USB and Aux Connectivity. This Vios also has 6-speakers to boast.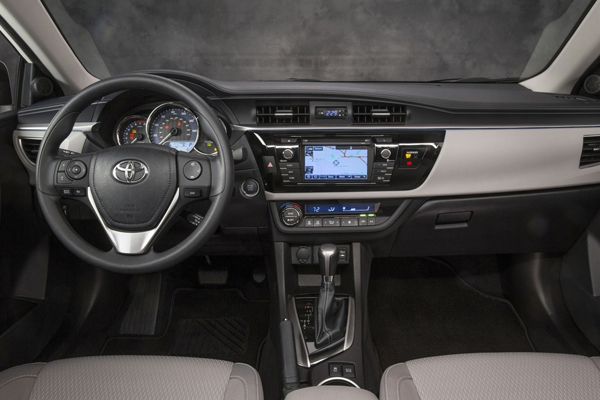 The Toyota Vios interior includes modern features such as touchscreen infotainment system and steering controls
Paddle Shifter, Eco-Drive Mode, Sports Drive Mode are available exclusively for CVT variants only.
Shift lever and knob is made of leather and this Vios also has a push start button.
4.4. Toyota Vios 2018 engine
The Toyota Vios 1.5G uses Dual VVT-I, 4-cylinder In-line DOHC 16V EFI, the 1.5L displacement which can produce 106HP/6,000RPM and torque of 140Nm/4200rpm.
4.5. Toyota Vios 2018 safety features
It is equipped with SRS airbags in front (driver and passenger), side, curtain shield and knee (exclusive for driver side only). It also has Vehicle Stability Control, Hill Start Assist Control, Anti-locking Brake System with Electronic Brake Distribution and Brake Assist.
For the front seats, both driver and passenger have 3Pt. ELR with Pre-tensioner and force limiter seatbelts, while the rear seats have 3Pt. ELR.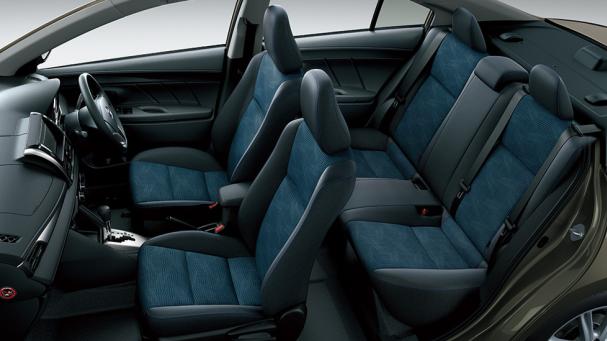 It also has Child Protection Lock and Bulb Type High Mount Stop Lamp
As for security, the Toyota Vios 1.5G is equipped with TVSS (Toyota Vehicle Security System) alarm and immobilizer plus a Wireless Door Lock via its Smart Entry with Speed-Sensing Door Lock.
As technology evolves, it is good to know that a family and budget friendly vehicle such as the Toyota Vios keeps up without hurting the consumers' pockets too much. It's even giving more options for the potential car buyers to choose from and it seems that this make and model will continue catering to its market's needs for more years to come.
>>> Click to keep updated with latest car news worldwide
Source: Ivy Kristia Padura